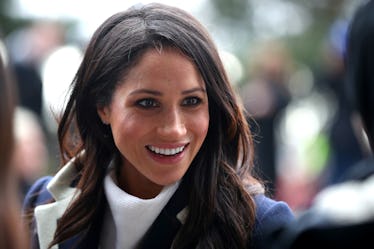 Meghan Markle Just Wore A Surprising New Hat & It's Already A Hot Spring Trend
WPA Pool/Getty Images Entertainment/Getty Images
Meghan Markle just made her first official appearance with her future grandmother-in-law, who just happens to be the Queen of England. The outing was heavily photographed, and my apologies to the queen, but I can't take my eye's off of Meghan Markle's beret hat. One look at this topper and it's clear her royal style is rising to new levels of brilliance.
Most brides-to-be don't need to make such a big deal about meeting the grandparents, but when your future husband's grandmother is a literal queen, you do things a bit differently. Meghan Markle and the queen stepped out for Commonwealth Day — what's Commonwealth Day? I had to look it up, too. It's a British holiday that recognizes and celebrates the Commonwealth of Nations, which are basically all of the countries that England used to rule over (India, South Africa, etc.). But back to Markle and that delicious hat!
Markle, Prince Harry, and the rest of the fam dressed up for the mother of all church services (cue a performance by Liam Payne) for Commonwealth Day, and as much as I love the queen, Markle's glorious headpiece stole the spotlight. At first glance, the French beret seems like a surprising choice for the occasion, but it's actually already one of spring's biggest trends.
Well, well, well, there it is, a beret! Berets (pronounced like "burr-ay" because French is weird) are a style of hat typically associated with France; they're soft, slouchy, and make me think of mimes.
Markle's beret was way more stylish than a boring old black beret, though, because it was royal AF.
Markle wore a creamy white beret and it looked like a gleaming halo atop her angelic head. Prince Harry's fiancé was also decked out in a navy dress, matching navy pumps and purse, and a white coat to go with her hat. Markle's pristine coat is by British brand Amanda Wakeley (Cream Sculpted Tailoring Crombie Coat, $1,199; amandawakeley.com), and I have no idea what a "Crombie" is, but I do know that I wouldn't dare spend that much money on a coat.
Luckily, Mango sells a similar style for a less-royal price (Straight Pocketed Coat, $100; mango.com). Markle's shoes are from Carrie Bradshaw's favorite designer, Manolo Blahnik (BB Pumps in Navy Suede, $595; manoloblahnik.com), and her bag is by Mulberry (Small Darley Bright Navy Cross Grain Leather Bag, $793; mulberry.com).
But what you really came here for is Markle's hat, which looks like cloud nine, literally. Berets made a huge comeback during fashion week in September 2017, which means that they've trickled down to us regular folk for spring 2018. And while Markle is anything but regular (she's marrying a prince, after all), it's refreshing to see that she follows the latest fashion trends just like you and me. Markle's beret was crafted by Stephen Jones Millinery, whose hats range in price from approximately $275 to over $6,000. There's no confirmation on how much Markle's beret goes for, but I'm guessing it's not cheap.
Fortunately, I've found some more affordable hats for you and I to don while we eat croissants and sip champagne.
My Accessories Cream Wool Beret
($19; asos.com)
Asos, j'taime. That's french for Asos, I love you, or in other words, Asos FTW. At $19 you can get (basically) Meghan Markle's exact hat.
Beltmar Wool Floral Beret
($43; kohls.com)
Bring some spring into your beret with a 3-D floral style.
Felt Beret in Rose
($29; urbanoutfitters.com)
Markle's beret was white but I can't resist anything in millennial pink.
I'll leave you with one last photo of Markle, here with her fiancé, Prince Harry. Markle and Harry will wed on May 19, 2018, which will be here sooner than you think. So mark your calendars, get your popcorn, and of course — buy your berets.