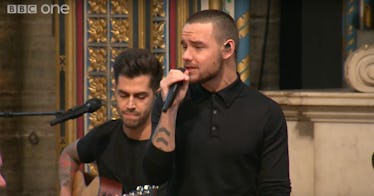 One Direction Fans Couldn't Handle Liam Payne Performing For Meghan Markle & Prince Harry
BBC One
Liam Payne performed live in front of the Queen of England, Meghan Markle, and Prince Harry at Commonwealth Day at Westminster Cathedral on March 12 and it was nothing short of epic. The former One Directioner sat on a bar stool in a black button down and unleashed the most beautiful acoustic cover of John Mayer's "Waiting On The World To Change." It was a show-stopping rendition, and the tweets about Liam Payne's performance show his fans seriously loved it.
The royal family attended the celebration to honor Queen Elizabeth's "lifetime commitment to the Commonwealth," which is made up of 2.4 billion people across 53 countries. That's a lot of people, you guys, and in a pre-performance video, Payne talked about what it was like to meet some of them.
"It was really great to see so many different nations and it was all so diverse, it was fantastic," he said. "And honestly, I felt very proud of everybody and it was an honor to be there for me. I'm really excited to perform for the Queen and royal family today. It's obviously a massive honor for me to be here. Thank you for having me."
No, Liam, thank you. Seriously. His stripped-down performance was both moving and meaningful. But don't just take my word for it — watch the magic happen below:
So incredible, right? Not gonna lie, I've been listening to his gorgeous vocals on repeat for the last hour! And I'm not alone in being floored by this sweet angel's voice. Check out some of the reactions to the performance on Twitter:
See what I mean? Dude pretty much killed it, and everyone seems to be in agreement. Although TBH, my life won't be complete until John Mayer himself rolls up to weigh in on Payne's performance!
I also can't help but wonder if the production will be enough to score Payne an invite to Markle's wedding to Prince Harry on May 19. I mean, The Spice Girls have reportedly been invited to perform, so why not? After all, the couple did just announce that they are inviting 2,640 people to the grounds of Windsor Castle for a close-up view of their nuptials.
"They want their wedding day to be shaped so as to allow members of the public to feel part of the celebrations too," reads a statement from Kensington Palace. "This wedding, like all weddings, will be a moment of fun and joy that will reflect the characters and values of the bride and groom."
The statement goes on to explain that the 2,640 people selected will get to watch the arrivals of the bride, the groom, and all of their wedding guests. Plus, they'll get to check out the carriage procession as it departs from the castle. Sounds pretty cool to me. Of course, if you want to be in that lucky 2,640, you'll have to meet one of the requirements — and they're kind of tough.
Here's the deal: The group will be made up of 1,200 members from the United Kingdom, who have shown strong leadership skills and served their communities. There will also be 200 people selected from a range of charities and organizations that Prince Harry and Markle have a close association with, including 100 students chosen from two local schools (The Royal School, Great Park, Windsor, and St George's School, Windsor Castle), 610 Windsor Castle community members, and 530 members of The Royal Households and Crown Estate.
Will Payne make the cut? We'll have to keep on waiting, waiting to find out. But after that performance — and Markle's amazing reaction to it — I'm thinking the answer can only be a hard YES.