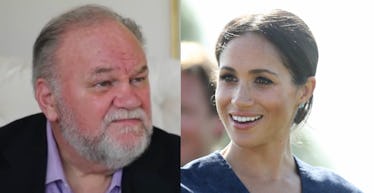 Meghan Markle Reportedly Has Plans To See Her Dad Soon, So That's Promising
If you've been paying attention to the newest royal, Meghan Markle, Duchess of Sussex, then you know she's been in the spotlight since her May 19 wedding to Prince Harry, Duke of Sussex. While Markle's coverage is quite positive, it's her father, Thomas Markle, whose interviews with the press have cast a negative light on what should be a very happy time for Markle. In an effort to get this father-daughter relationship back on track, Meghan Markle will reportedly reunite with her dad when she visits Los Angeles before the end of summer.
According to Mirror Online, the new royal reportedly has plans to meet with her estranged father at the end of August in Los Angeles. A source claims that Thomas is apparently holding two dates open in his calendar at the end of the month in order to see his daughter when she embarks on a solo trip to the United States. Elite Daily reached out to Kensington Palace for a comment on these reports, but did not hear back at the time of publication.
The source continued about why the top-secret nature of this reported meeting is so important. Per the source, "The location and exact dates will be top secret for both their sakes. It is a very sensitive time for them, but the intent seems to be to heal the rift."
The seemingly rocky relationship between Markle and her father dates back to even before Markle's May nuptials to Harry. On May 12, Thomas was seen in printed tabloid pictures "studying" for the wedding in a Starbucks in Rosarito, Mexico (where Thomas resides). It turned out that the photos were staged, and Thomas reportedly received £100k (about $115,825 U.S. dollars) to pose for the pics, per The Daily Mail. Thomas later said that he regretted taking the photos, and he reportedly clarified to TMZ that he was compensated a much lower amount of money than reported by The Daily Mail.
After reportedly suffering a heart attack days before the May 19 nuptials, Thomas sadly couldn't make it to Markle's wedding. Kensington Palace tweeted out a statement from Markle on the matter on May 17.
Unfortunately, things got worse from there. Thomas embarked on a string of television interviews that did nothing to help his relationship with his daughter. Back in June, Thomas spoke in a tell-all interview with Piers Morgan on Good Morning Britain. In this first interview, which he was paid for, Thomas spoke about how Markle and Harry were "disappointed" but understanding of his health issues that kept him from the wedding. He also went on to detail reported conversations he had with Harry about President Donald Trump and Brexit.
In other interviews, he accused Markle of "faking happiness," and he said that he is trying to get the royal family to "break the silence."
It seems as though this reported meeting with Markle and her father might be the first step to break that silence. Although, Thomas seems to have a hard time staying away from the cameras, so time will tell if the reported reunion works out.
Per the source, "The plan is in early stages but Meghan seems to be tentatively moving towards meeting her father on her own." It makes sense that Markle is unsure about a meeting given Thomas' latest actions, but, hopefully, they can come together as father and daughter once again.