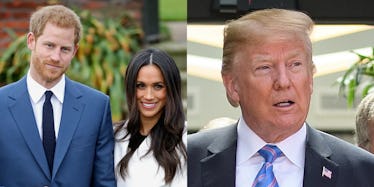 Meghan Markle's Dad Said Prince Harry "Might've Been" A Trump Supporter & Twitter Isn't Having It
Chris Jackson/Getty Images Entertainment/Getty Images/Leon Neal/Getty Images News/Getty Images
Now that it has been about a month since the royal wedding took place, there is not as much chatter about the royal newlyweds, Meghan Markle and Prince Harry. Of course, people like to keep up with what they're doing, but the wall-to-wall coverage of wedding dress and cake details is no more. Well, a U.K. television channel decided to revisit the details of the wedding in an interview with Meghan Markle's father, and the topics of conversation grew vastly beyond the details of the royal nuptials on May 19, 2018. In particular, Thomas Markle's quotes about Donald Trump raised a few eyebrows.
In a Monday, June 18 interview with Piers Morgan and Susanna Reid on ITV's Good Morning Britain, Markle spoke to the hosts about missing his daughter's wedding to Prince Harry. However, it wasn't the discussion about Markle's health issues or his apology for the staged paparazzi photos that caused concern. Rather, it was Markle's remarks about Prince Harry's political views that seemed questionable.
When questioned about President Trump by Morgan, Markle recalled a moment when he was on the phone complaining about Trump to Prince Harry. Per The Guardian, Markle said in the interview, "All Harry actually did was say because Trump was new, he said, 'Give him a chance.'" When asked if he thought Prince Harry was a Trump supporter, Markle further speculated when he said, "I think Harry has probably changed his mind by now – I certainly hope he has"
OK, so in an interview where Markle said he has yet to meet Harry in person, he answered a couple questions about Trump from Morgan. While some wanted to dig into Markle's quotes as tacit confirmation of Prince Harry's support for Trump, others immediately questioned how someone who never even met Prince Harry could accurately speak about his political beliefs.
In any case, Twitter wasn't having it.
It's also important to note that Morgan — who was on Trump's show, The Celebrity Apprentice — seemed the most concerned during the interview with getting information about Prince Harry's feelings about Trump. Morgan pushed even further to get details about what Markle shared as Prince Harry's views on Brexit. Per The Guardian, Markle told Morgan in the interview,
He said he was open to it. He didn't know one way or another, he was just saying he had to be open to it, and see how it went. That's pretty much what's his attitude. This is just conversation between two guys about politics nothing cast in stone, just the way you talk.
From Markle's other political comments in the interview, it appears that he himself is not a fan of Trump. Markle prefaced his story about the call with Prince Harry by saying, "I always have a bad attitude about Donald Trump." He went even further when he said, "I have to apologize to the rest of the world for my president."
While there is no statement from Prince Harry to confirm the accuracy of Markle's statements on Harry's political views, Markle's daughter has perviously shared a similarly disapproving view of Trump. Back in May 2016 on The Nightly Show with Larry Wilmore, Meghan said of then-candidate Trump,
Yes of course Trump is divisive. Think about just female voters alone. I think it was in 2012, the Republican Party lost the female vote by 12 points. That's a huge number and with as misogynistic as Trump is and so vocal about it, that's a huge chunk of it.
Meghan even went on to discuss why she would cast a vote for Hillary Clinton when she said, "You're not just voting for a woman if it's Hillary because she's a woman, but certainly because Trump has made it easy to see that you don't really want that kind of world that he's painting."
In the end, you can take Markle and his daughter's statements about Trump coming directly from them, respectively, at face value. It's probably best, though, not to base definitive conclusions of Prince Harry's feelings on Trump and Brexit on a reported phone call between Markle and the Prince Harry.