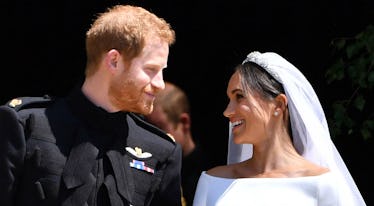 Here's What Meghan Markle & Prince Harry Were Laughing At In Their Wedding Portrait & Aww
Ben STANSALL - WPA Pool/Getty Images
The official portraits from Prince Harry and Meghan Markle, Duke and Duchess of Sussex's wedding are seriously stunning. The three photos show Harry and Meghan with the royal family, Meghan's mother Doria Ragland, and the bridesmaids and page boys, and one photo of just Harry and Meghan laughing. The man who took those photos, Alexi Lubomirski, just revealed how he got that shot, and it turns out that Meghan Markle and Prince Harry's black-and-white wedding portrait has the cutest story behind it.
According to People, Lubomirski told reporters on Wednesday, May 23, that the photo happened naturally, and he was so strapped for time that he didn't even realize he got that shot until he sat down to look over them later. "So after we'd done the set up [the family] shots, then we all went to the reception," he said. "And if the couple were going to have any energy after that, we were going to go into the rose garden and just take some intimate quick shots."
He continued,
So eventually we went out there, we had about three-and-a-half minutes to take some pictures, because everything was like clockwork, and it was just one of those magical moments, when you are a photographer and everything falls into place.
Yeah, I'd say this photo captured a magical moment for sure.
Kensington Palace debuted the three official royal wedding portraits on Monday, May 21, in a series of tweets. The tweet debuting the black-and-white photo said,
The Duke and Duchess would like to thank everyone who took part in the celebrations of their Wedding. They feel so lucky to have been able to share their day with all those gathered in Windsor and those who watched on television across the UK, Commonwealth, and around the world.
Lubomirski gave the full details of how he got the shot, and the story is going to make your heart sing. He said, "You have Windsor Castle in the background, the sun is setting just over the top of Windsor Castle behind them, it is just the most serene beautiful light." He continued, "They are in love, walking around this beautiful garden, and then we walked around for a bit, and then just got pictures of them. And they are in this elated state of mind." Hold your sh*t together, Kelli. Don't cry right now!!, she whispers to herself through gritted teeth.
Then came the best part of the story. Lubomirski revealed,
I said finally, 'OK, let's go back. You can go back to your thing now, but listen, just before you go in, let's sit down on these stairs.' And she just slumped in between his legs, and there was this moment where they were just laughing because they were joking about how they were exhausted and finally it's all over. And they just looked at each other and they were just laughing, and it was this just beautiful moment.
You mean to tell me... that the photo... is CANDID?! That's it. I'm done. I'm crying. I'm a puddle on the floor. Their love is so pure.
Lubomirski said he didn't realize what a gem he had taken until he got back to his hotel and looked through the photos. "And when you are taking the pictures," he said, "you know you have something, but obviously you haven't got time to look at it. So it wasn't actually until I got back to the hotel that I looked at it, and it was just amazing — a very happy moment."
Consider me forever in awe of the fact that that black-and-white photo of Harry and Meghan is CANDID. Do you know what I look like in candid photos? NOT LIKE THAT. Sweet jesus, these two are going to have the most beautiful babies on the planet. Bye, everyone. I officially can't deal with any of this. I say that all the time, but this time I mean it.