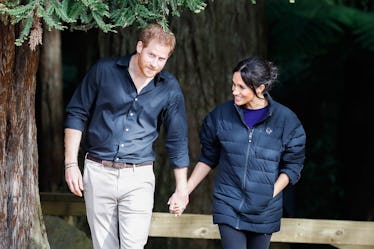 Meghan Markle & Prince Harry's New Home Has This Special Connection To Their Wedding Day
Chris Jackson/Getty Images Entertainment/Getty Images
Now that they have a baby on the way, Meghan Markle and Prince Harry are reportedly ready to fly the nest to a new home for their expanding family. On Nov. 23, The Sun confirmed earlier speculation that the couple plans to pack up their current residence at Kensington Palace and head to a new home with special ties to their walk down the aisle. Meghan Markle and Prince Harry moving to Windsor Estate has a very touching connection to their wedding day, and they could be all moved in as early as 2019, per the reports. Elite Daily reached out to Kensington Palace for further comment about the report, but did not hear back by the time of publication.
On Friday, royal correspondent Emily Andrews appeared to corroborate rumors that the "Fab Four," as Princes William and Harry as well as Meghan Markle and Kate Middleton have come to be called, were calling it quits — at least when it comes to living together. The foursome currently shares a "joint" court at Kensington Palace, which is also the home of the Duke and Duchess of Cambridge's three children as well as many other royals (Princess Eugenie and husband Jack Brooksbank, the Prince and Princess of Kent, and the Duke and Duchess of Glouchester are just a few of the palace's royal residents). While Kensington Palace is comprised of numerous buildings and the "apartments" each family lives in could probably fit at least a hundred of my own apartment inside, it's still totally understandable that Markle and Prince Harry would want to have their own space when their bundle of joy arrives.
On Saturday, Nov. 24, a tweet from Victoria Murphy, a royal family reporter, announced that Kensington Palace confirmed reports that "The Duke and Duchess of Sussex will move to Frogmore Cottage on the Windsor Estate next year."
Markle and Prince Harry currently reside at Nottingham Cottage — a two-bedroom space on the grounds of Kensington Palace — and the couple initially hoped to move from that space into a bigger apartment next to Prince William and Kate Middleton once their baby arrived.
A royal source reportedly told The Sun, "The initial plan was for Harry and Meghan to move out of their cottage in the grounds of Kensington Palace and into one of the main apartments. But there has been a bit of tension between the brothers. Now Harry and Meghan don't want to live next to William and Kate and want to strike out on their own." Elite Daily reached out to Kensington Palace for comment on the report, but did not hear back at the time of publication.
Now, the parents-to-be have got their eye on a home at Windsor Castle, and their new abode sounds like a pretty big upgrade. Frogmore Cottage is a ten-bedroom home located on the grounds of Windsor Castle, and it was gifted to the newlyweds by the Queen. While major renovation work needs to be done to transform the space — which currently houses palace staff — into a home with a nursery, a personal gym, and a yoga studio, Frogmore Cottage holds a special connection to the couple's wedding day. Windsor Castle was the setting of the lovebirds' fairytale nuptials in May, and their royal reception was held near their new home. In addition, their engagement photos were shot on the grounds of the castle, which makes it a fitting spot to start their life with their baby on the way.
"Windsor is a very special place for Their Royal Highnesses and they are grateful that their official residence will be on the estate," a spokesperson reportedly told People. "The Duke and Duchess's official office will continue to be based at Kensington Palace."
Prince Harry and Meghan Markle's first child is due in April 2019, so it's likely that the couple will probably be making moving arrangement early next year to prepare for their royal tot's arrival.