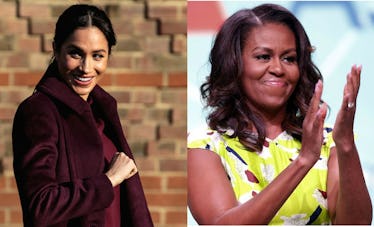 Meghan Markle & Michelle Obama Reportedly Met For The First Time, Be Still My Heart
JACK TAYLOR/GETTY IMAGES ENTERTAINMENT/GETTY IMAGES & JONATHAN BACHMAN/GETTY IMAGES NEWS/GETTY IMAGES
It's been a long time coming, but Meghan Markle and Michelle Obama have finally met, according to multiple reports. (!!!) Per British publication Evening Standard, the powerhouses reportedly sat down for a private talk on the evening of Monday, Dec. 3, where they discussed a wide range of subjects, from their personal lives to their professional goals. To sum it up, though, Meghan Markle and Michelle Obama's first conversation was reportedly a "power meeting," because of course it was.
The conversation reportedly came after Obama's promotional appearance in London for her newly released memoir, Becoming. According to The Evening Standard, the pair had a long, private conversation about their shared causes, including promoting girls' education around the world. "They spoke at length about the importance of supporting and empowering women across all cultures and communities," an insider reportedly told the Evening Standard. "They also talked about shared experiences of pregnancy and raising children, plus shared causes including girls' education."
Over the course of the reported conversation, from the apparent talks about Malia and Sasha Obama to the royal mom-to-be's burgeoning baby bump, Markle and former first lady apparently "formed a strong bond." Things even appeared to go so well that the source said they were "expected to stay in close contact." YES. Elite Daily reached out to representatives of both Markle and Obama for further comment on or confirmation of the reported meeting, but did not hear back by the time of publication.
The reported chat comes a day after Obama shared some encouraging advice to Markle about the pressures of living in the spotlight after her high-profile marriage to Prince Harry. Speaking to Good Housekeeping for their January issue, excerpts of which were published on Dec. 2, Obama urged Markle to take time to herself, when needed, and not rush into anything prematurely. She said:
Like me, Meghan probably never dreamt that she'd have a life like this, and the pressure you feel — from yourself and from others — can sometimes feel like a lot. So my biggest piece of advice would be to take some time and don't be in a hurry to do anything. I spent the first few months in the White House mainly worrying about my daughters, making sure they were off to a good start at school and making new friends before I launched into any more ambitious work. I think it's [OK] — it's good, even — to do that.
Prince Harry, on the other hand, has met with the Obamas on multiple occasions. He hung out with President Barack Obama during the 2017 Invictus Games, and interviewed the former commander-in-chief in his role as guest editor of BBC Radio 4 that same year, during which they gushed over movies and TV shows, and their relationships. Critics have even gone as far as labeling their relationship a "bromance."
With any luck, Markle and the first lady will follow in those same footsteps and bless us with a public appearance together sooner rather than later. We'll see.