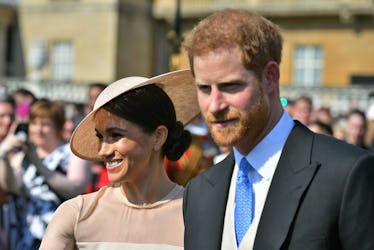 Meghan & Harry's Body Language At Their First Royal Event Reveals They're So In Love
WPA Pool/Getty Images Entertainment/Getty Images
After lots of anticipation, everyone's new favorite couple, Prince Harry and Meghan Markle, finally tied the knot this past weekend and became the Duke and Duchess of Sussex. Since making it official, the couple has wasted no time getting started on their royal duties. Just three days following their wedding, they made their first public appearance as a married couple at Prince Charles' 70th birthday party. And Meghan and Harry's body language at their first royal event speaks volumes about how totally in love and in sync the adorable newlyweds are.
In order to get the scoop on what we could learn from their body language, Elite Daily consulted two body language experts: Traci Brown, author of Persuasion Point: Body Language and Speech for Influence, and Patti Wood, author of SNAP: Making the Most of First Impressions, Body Language, and Charisma.
In general, Brown points out some overarching themes that can be drawn from all of the images. "We see a lot of the same things that we've seen from her," she explains. "She will not take her hand off of him and it can be a little bit for reassuring security and it can be to say, 'Hey, he's my man and don't touch.' We see them in step quite frequently in these pictures which says that they're a very tight team which is great, that's what we love about them."
For more detailed reads of each image, scroll below. Trust me, you're going to learn a lot.