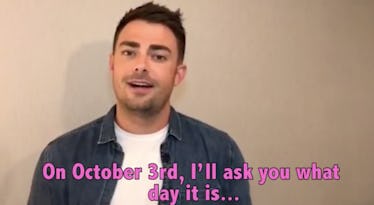 The Cast Of 'Mean Girls' Is Using Oct. 3 To Help Las Vegas Shooting Victims
It's time to celebrate that all-important pop culture reference: Oct. 3, Mean Girls Day. This year, (most of) the cast of Mean Girls reunited to help Las Vegas shooting victims with a GoFundMe campaign. Seeing them together again for an important cause will warm your heart.
First, for the uninitiated, Mean Girls Day is celebrated every year on Oct. 3, because that's when dreamy Aaron Samuels (Jonathan Bennett) asked Cady Heron (Lindsay Lohan) what the date was and she told him, "It's Oct. 3."
As far as things to celebrate, it may seem insignificant, but it's a big deal — trust me.
This year, Oct. 3 is a little different, as the stars of the original film (well, not Rachel McAdams or Lohan) reunited to use the day and the exposure to help others, taking to GoFundMe with a video that explains their goal to raise $300,000. And it's so easy.
The GoFundMe page explains Mean Girls For Las Vegas:
The cast of Mean Girls is teaming up this October 3rd to do some good.
We're asking for just $3 to hit a $300,000 goal.
We are working directly with the National Compassion Fund, a program in the National Center for Victims of Crime. This organization collected and distributed funds to victims of the Pulse Night club shooting, the Aurora shooting, and even 9/11.
100% of funds raised will be distributed to the victims of Las Vegas through the NCF at the completion of this campaign.
Do something grool today. Let's hit this goal together. We might not make fetch happen, but we can make this happen.
In the video, Lacey Chabert, Daniel Franzese, Bennett, and Amanda Seyfried explain: "We know today is a special day. And that's because of fans like YOU. It's October 3rd ... This year, though, we're doing things a little differently. We want to turn the attention to those who need it. After Sunday night's tragic events in Las Vegas, let's give back. In honor of Mean Girls Day, we're asking each of you, the groolest fans out there, to help."
They continue:
We've started a GoFundMe page, 100 percent of the proceeds will go to the National Compassion Fund. If every fan gave just $3 in honor of October 3rd, just $3, we would hit our goal of $300,000 in no time. Guys, look, we know fetch is never gonna happen, but we CAN make this happen. On October 3rd, I'll ask you what day it is... But we'll also ask you to help. So, you go, Glen Coco... to gofundme.com/october3. Thank you for being a fan and thank you for your help.
While some comments on the GoFundMe page quoted the movie, with notes of "Grool!," "You go, Glen Coco!" and "This is so fetch," others thanked the stars for their efforts to raise money. One fan wrote: "the limit to kindness does not exist," while another noted: "Love this! We can make a difference!"
Meanwhile, Lohan acknowledged the pop culture holiday on Instagram, sharing a snap of the epic film moment with the caption: "OMG!! #itsoctober3rd follow me on snapchat! My name is Bella79."
In other Mean Girls news, Tina Fey is promoting the soon-to-be musical based on the film that will be landing on Broadway. How? By handing out cheese fries to fans in NYC on Mean Girls Day. Brilliant.
Oh, to be served cheese fries by Fey. Dreams do come true. I'll just live this moment through other fans' pics on Twitter.
Fey even calls herself "the Evita of cheese fries." Amazing.
Previews for the Mean Girls musical begin March 12, 2018.
Hop over to the Mean Girls For Las Vegas GoFundMe page to donate today.
Check out the entire Gen Why series and othervideos on Facebook and the Bustle app across Apple TV, Roku, and Amazon FireTV.