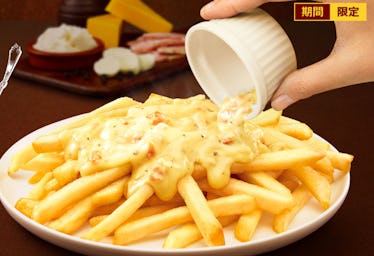 McDonald's New "Carbonara" French Fries Are The Cheesy, Bacon-Filled Treat Of Your Dreams
MCDONALD'S JAPAN
Remember when you thought cheese fries were the best thing to happen to civilization? Yeah, me too. That is, until I saw that McDonald's Japan released "carbonara" french fries with all the cheese and bacon, and my world as I knew it was completely shaken. This gooey, savory mixture of deliciousness featuring two of my very favorite food groups sounds like the pinnacle of all french fry toppings, so catch me later after I've booked a flight to Japan to sample this delicacy.
There are few things in life more simple but potent than the dream team of cheese and bacon, so I headed to McDonald's Japan's website to check out its new menu offering, Kaketemiyo Carbonara. Google Translate can be a hit or miss, but in this case, I get the (very tasty) gist. Unlike a traditional carbonara sauce, which melts parmesan cheese, cream, egg yolk, and pancetta into one sinfully creamy mixture, McDonald's is making its take all about the cheese and bacon, and TBH, I'm not mad about it. According to the website, three different kinds of cheese are melted into an ooey-gooey blend before they're mixed with bits of smoked bacon and black pepper. You can order McDonald's OG salty and crispy french fries bathed in this drool-inducing mixture à la carte, or cheese up your Big Mac by upgrading your meal with the limited-edition fries. Or do both, because something tells me your taste buds won't be satisfied with just one box of these bad boys. At just JP¥390 (or about $3.50 per serving), this is one treat that won't break the bank, so order up.
According to a press release, the purveyors at McDonald's Japan are offering this limited-edition item from now through late November, so you have just over a month to start saving up and book your trip overseas. Normally I wouldn't recommend booking a trip somewhere just to try one dish, but for the best cheese fries you'll ever have the pleasure of tasting? Absolutely.
That being said, Japan does offer plenty of one-of-a-kind sips and bites from your favorite chains that you'll want to try while you're over there. After you're done with your carbonara french fry bonanza at McDonald's, head on over to Starbucks where you can chase all that cheesy goodness down with some refreshing Halloween-themed drinks.
Starbucks Japan is ringing in the spookiest month of the year with limited-edition Witch and Princess Frappuccinos that sound so tasty. You can choose to channel your inner villain with the witchy brew, which is "layered with a crumbled caramel cookie that's blended with milk" before adding in layers of chocolate sauce, whipped cream, and apple compote, or go the princess route with the millennial pink Frapp. For the Princess Frappuccino, the apple mixture is blended with milk and white mocha sauce before topping off the whole concoction with with generous layers of whipped cream and sprinkles that look just like tiny iridescent pearls. Not only are these dueling sips perfect for fall, but they're also perfect for double fisting while getting your carbonara french fry fix. So, what are you waiting for? The world's best cheese fries await.