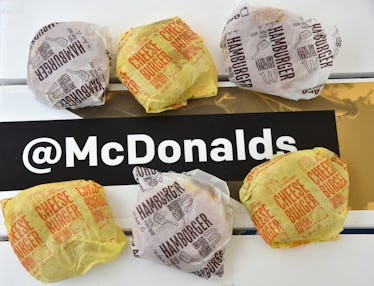 Head To McDonald's On Black Friday For Free Fries & BOGO Deals
Kris Connor/Getty Images Entertainment/Getty Images
In between taking home electronics and clothes at just a fraction of the cost on Friday, Nov. 23, McDonald's Black Friday 2018 deals guarantee you'll also be able to get your favorite chicken nuggets and all the hot salty fries on discount like usual. While the Golden Arches isn't rolling out any Black Friday-only savings for shoppers looking for a quick bite, I can pretty much guarantee that many hungry deal hunters will be making their way to their local Mickey D's to fuel up after a busy morning. Here's all the freebies as well as BOGO bites and sips that you can expect to treat your tastebuds to on the year's biggest day in retail.
Free Fries
ICYMI, McDonald's is offering a free order of medium fries every Friday through Dec. 30, 2018, which means that hungry Black Friday shoppers can get in on that deal on Nov. 23. To enjoy french fries on the house, all you have to do is pull up the McDonald's app with the coupon, purchase an item on the menu that is at least $1, and voila, an order of free medium fries is yours to dig into.
20-Piece Chicken Nuggets For $4.99
If you have a serious case of the munchies or are out shopping with your crew, you're going to want to order 20 of Mickey D's golden crispy Chicken nuggs for just $4.99. While there's a limit of one order per individual for day, I think the best part is that buying the 20-piece order of nuggets will automatically qualify you for an order of free medium fries (see above), so you can have all the fried deliciousness you're craving after a busy morning at just a fraction of the cost. Again, you have to be on McDonald's app for this one, so I'd take a second to sign up while you're waiting in line.
BOGO Sandwich For $1
Except for the company's Double QPC and Signature Crafted® sandwiches, all of McDonald's sammies can be enjoyed for a BOGO for $1 deal through Nov. 30 if you pay through the app. This includes everything from the Golden Arches' Big Mac to the Filet-O-Fish so you can mix and match your favorites.
BOGO Medium Or Large McCafé For 1 Cent
Keeping caffeinated is imperative when dealing with the long lines, crowds, and bad traffic that's pretty much synonymous with Black Friday. Luckily, McDonald's is making it easy to double fist your coffee by offering a BOGO for $0.01 deal for medium or large McCafé drinks through the company's app.
$1 Medium Or Large Specialty McCafé
If you're feeling festive, a medium or large Caramel Macchiato or Peppermint Mocha can get you in the holiday spirit and give you a burst of energy for just a buck.
BOGO Chicken Tenders Or Chicken Nuggets For $1
If 20 chicken nuggets just isn't happening, you can buy one order of Buttermilk Crispy Tenders, Sweet N' Spicy Honey BBQ Crispy Tenders, or Chicken McNuggets, and get another one for just $1 when you order through McDonald's app. This deal only goes until Nov. 25, so now's the time to try Mickey D's new honey BBQ sauce if you haven't already.
Free Soft Drink
You're going to need something to wash that McDonald's spread down, and a free soft drink will do just the trick. With the purchase of some free medium or large fries on the app, you can grab a soft drink in any size completely gratis.
There's plenty of different options, which makes it a great choice if you're looking for a quick dining stop that'll satisfy everyone in your shopping crew without digging into those Black Friday funds. Just remember to sign up for McDonald's app for full access, and you'll be good to go. Happy munching!