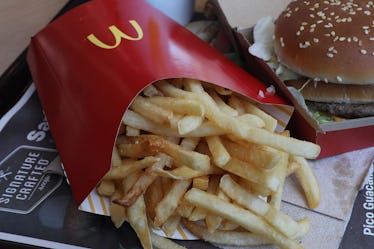 You Can Get Free McDonald's Fries Every Friday This Year & Here's How
Joe Raedle/Getty Images News/Getty Images
Whenever I think of French fries, McDonald's is always the first restaurant that pops into my head. If you're similarly a fan of McDonald's fries — and free food — then you will definitely want to pay attention to the popular fast food chain's latest deal. Here's how to get free McDonald's fries every Friday through the end of 2018.
I know, this sounds like a deal that must be too good to be true. Fear not, because this deal is 100 percent real, and it is so easy to take advantage of. The first thing you need to do is download the McDonald's app from the App Store or Google Play. Once you have the golden arches on your smartphone, all you need to do is register an account on the app to unlock all of the delicious deals.
Yes, there are multiple food deals available, but I'll start by letting you know how you can get those crave-worthy free fries. According to the McDonald's website, you can get a free order of medium fries with a $1 purchase every Friday from July 2 through Dec. 30, 2018. To snag your complimentary hot and delicious fries, simply show the coupon on the app, buy your favorite menu item that is at least a buck, and enjoy it with your free medium fries.
It's really that simple to kick off every weekend with a piping hot order of free McDonald's fries. I don't know about you guys, but I'm about to add "redeem free McDonald's fries" to every Friday schedule in my calendar from now through the end of the year.
Plus, once you have the McDonald's app, you can take advantage of even more deals from the restaurant. Some of the other delicious bargains you find on the app include the $1 McDouble and a 20-piece Chicken McNuggets for only $4.99. Similar to the free fries deal, each of those mobile coupons are also valid through the end of 2018. The burger and nuggets deals actually one-up the once-a-week free fries, because you can redeem the McDouble and Chicken McNuggets coupons once a day.
If you're feeling particularly parched when you order your next McDonald's meal with the app, then you can take advantage of the free soft drink with $1 purchase deal on Tuesdays and Thursdays through the end of the year.
Now that you're on already on your phone, you might want to make a note in your calendar for Thursday, July 19. Why, you ask? Well, if you order McDelivery through UberEats on July 19, you'll have the opportunity to score some sweet swag from the McDonald's Throwback Collection. In honor of Global McDelivery Day on July 19, McDonald's is offering customers the chance to receive items like the super cool Classic T-shirts and Big Mac socks.
The McDelivery Throwback Collection deal is good for one item per customer while supplies last, and you can give yourself the best shot at getting something when you place your $5-minimum order when lunch service starts at your local McDonald's (either 10:30 a.m. or 11 a.m. local time).
With free fries on Fridays and a chance to get some serious '90s-inspired gear on Global McDelivery Day, McDonald's might just make this summer your best one yet.