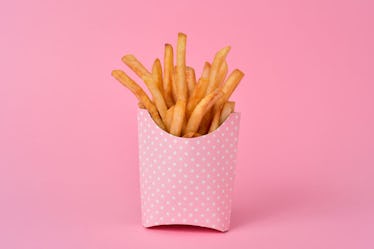 These Restaurants Are Giving Away Free Fries For National French Fry Day & I'm In
Ever since the month of June kicked off with National Donut Day, I've been keeping an eye out for the next tasty "holiday" of the summer. National French Fry Day is on Friday, July 13 this year, and there are some scary-good deals to take advantage of. Here's where to get free fries on National French Fry Day 2018, because there is no better way to celebrate.
The French fry is really the ultimate side to any meal. It's crunchy and crispy, and it's perfect for dipping into all of your favorite sauces. It's no wonder that a bite this good has an entire holiday devoted to it. I mean, what other food is so good that you actually fight over who gets to eat the ones that fell in the bottom of the take-out bag?
While scooping up loose fries can be entertaining, you can skip the hassle and get your own free fries on Friday, July 13 when you visit certain restaurants. Some deals are straightforward free fries while others are free fries in addition to another purchase. If you regularly enjoy fries, then you'll be saving money and eating your favorite side when you take advantage of these National French Fry Day deals.