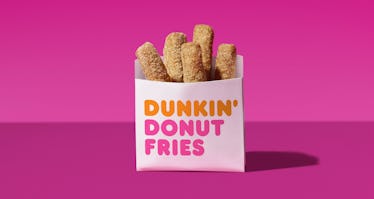 Dunkin' Is Giving Away Free Donut Fries This Week & BRB, I'm On My Way
Dunkin' Donuts
National French Fry Day appropriately falls on Friday, July 13. To kick off the celebratory fast-food day, Dunkin' Donuts is giving away free Donut Fries to customers at 25 locations nationwide. If you haven't tried the breakfast treat yet, this is your chance to do it at no cost. Although, the freebie is only available at select stores across the United States, and you'll need to be one of the first in line to get your free Donut Fries. Here's how to get free Dunkin' Donut Fries on National French Fry Day for a sweet snack.
Sure, there's bound to be a few French fry deals in honor of National French Fry Day, but none quite like this one from Dunkin' Donuts. The free breakfast fry treat is only available in five markets nationwide, so you may need to make some travel arrangements ASAP. In order to take advantage of the free donut deal, you'll need to make your way to a store in the Greater Boston area, Greater Chicago area, Los Angeles, or New York City, according to Dunkin' Donuts. There are also several cities in Tennessee including Knoxville, Chattanooga, Murfreesboro, Lebanon, and Dickson, that are participating in the free fry deal. This is the perfect promo to send you off into the weekend full of delicious eats. (Head's up, National Ice Cream Day is Sunday, July 15.)
There are some stipulations to be mindful of when it comes to getting your complimentary box of Donut Fries. (Dunkin' Donuts can't just give out free Donut Fries everywhere, you know. That might lead to a shortage, and what a tragedy that would be.) To claim this deal, you must be one of the first 100 people to show up at any of the above locations between 10 a.m. and 2 p.m. local time on Friday, July 13, according to Dunkin' Donuts. Grab a friend and get ready to line up, because nothing tastes as good as free food.
Even if you don't live in one of the participating locations, you can still get in on the fun and treat yourself to yourself to a pack of Dunkin' Donuts' Donut Fries. After all, Donut Fries are only $2 each, so they are a totally budget-friendly treat. The sweet snack will be served in a "special limited edition fry box," according to Dunkin' Donuts. The breakfast chain also alluded to the fact that they will have more in store for National Fry Day. It's unclear exactly what that means, but I can't wait to find out.
Let's get back to the fries themselves. Donut Fries aren't your average fries. They aren't made of potatoes and they aren't topped with salt. The new menu item, which launched on Monday, July 2, includes five flaky and buttery croissant-style donuts that are chewy, yet melt in your mouth. The deliciousness doesn't stop there. In the final preparatory step, the sweet fries are lightly dusted with cinnamon sugar and served warm. Donut Fries are somewhere along the lines of churros, but on a whole different level.
Since you will already be at Dunkin' Donuts, you might as well indulge in one of their new dessert-inspired iced coffees, too. The new limited edition brews come in Butter Pecan, Cookie Dough, and Pistachio. I'm a Butter Pecan fan, myself. Although, you can't go wrong with any of the flavors. There's no doubt that ice cream flavored coffee is the perfect drink to go with your box of Donut Fries.
Wherever you are celebrating National French Fry Day with Dunkin', snap a picture of your Donut Fries to share on social media using the hashtag #DonutFries.