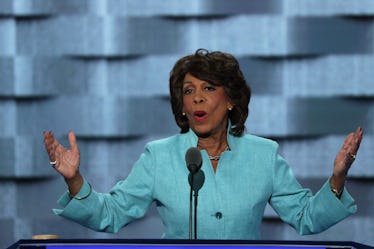 Maxine Waters' Office Was Evacuated Because Of A Suspicious Package & It's So Scary
Alex Wong/Getty Images News/Getty Images
Maxine Waters is undoubtedly a strong woman. When she's not confidently addressing topics that many others wouldn't dare to, she's flawlessly shutting down random and brutal criticisms. But she might really be shaken up after the experience that reportedly just occurred. Apparently, Maxine Waters' office was evacuated after a suspicious package was delivered to her, and it's a truly scary situation.
According to ABC News, a package labeled "anthrax" arrived at Waters' office in Los Angeles on July 24, prompting the evacuation by police and a hazardous materials team. Thankfully, the item was later determined to be non-hazardous and no injuries were reported. However, authorities have yet to discover where the package came from.
The news comes just days after Waters received a "very serious death threat" that forced her to cancel multiple public events earlier this month, per The Hill. According to Waters, the threats increased after she called on supporters to confront Trump and members of his administration in public over his highly controversial immigration policies during a rally back in June.
Needless to say, her comments received heavy criticism, with many people claiming they were an attempt to incite violence — although Waters maintained otherwise. Even Trump chimed in, warning the California Democrat to "be careful what you wish for."
But Waters didn't back down. She went on to give a fiery speech at a Families Belong Together rally to protest the Trump administration's immigration policies in Los Angeles on June 30. In her remarks, Rep. Waters told supporters she wasn't intimidated by the backlash she got after making her comments, including death threats, saying:
We have some members of Congress who are intimidated. I have no fear. I'm in this fight. And I know that there are those who are talking about censuring me, talking about kicking me out of Congress, talking about shooting me, talking about hanging me. All I have to say is this: If you shoot me, you better shoot straight. There's nothing like a wounded animal. I am prepared to make whatever sacrifices need to be made. I am not about to let this country go by the way of Donald Trump. We are sick and tired of him, he's been there too long, they dare me to say impeach him. Today I say: Impeach 45!
Her comments were, again, met with criticism, including from President Donald Trump, who fired back at Waters with a remark about her IQ during a campaign rally on July 5. He said:
I said it the other day, yes, she is a low-IQ individual, Maxine Waters. I said it the other day. Honestly, she's somewhere in the mid-60s, I believe.
But we can assume Waters was unbothered by his remarks, as she's always been a pretty fierce critic of Trump: She refused to attend his inauguration, she boycotted his State of the Union address back in January, and she's repeatedly called for his impeachment. I think it's safe to say she's not a fan.
As a politician, it's not uncommon for Waters to speak out against troubling issues, so it's pretty wild that she's encountering such horrible treatment. But the good news is that she's safe, and I'm already looking forward to hearing what she has to say next.