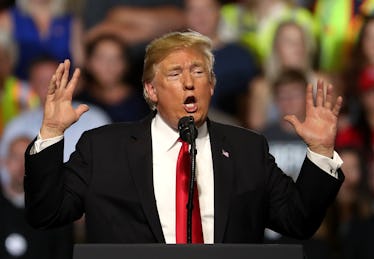 This Trump Rally Quote About Maxine Waters Shows Civility Is Out The Door
Justin Sullivan/Getty Images News/Getty Images
President Donald Trump was back on the campaign trail on Thursday night, July 5. During a rally in Great Falls, Montana, the president took aim at prominent Democrats, accusing them of, among other things, wanting "anarchy." Among the most notable jabs at his political opponents was Trump's rally quote about California Rep. Maxine Waters.
"I said it the other day, yes, she is a low-IQ individual, Maxine Waters. I said it the other day. Honestly, she's somewhere in the mid-60s, I believe," President Trump said on Thursday night.
Trump's comment about Rep. Waters' IQ follows a pattern that has seen the president target the California congresswoman in public statements and on social media, all seemingly in reaction to Waters' urging supporters to "push back" against Trump administration officials in public.
On Monday, June 25, the president tweeted, "Congresswoman Maxine Waters, an extraordinarily low IQ person, has become, together with Nancy Pelosi, the Face of the Democrat Party. She has just called for harm to supporters, of which there are many, of the Make America Great Again movement. Be careful what you wish for Max!"
A week later, the president followed up with another tweet in the same vein. "Crazy Maxine Waters, said by some to be one of the most corrupt people in politics, is rapidly becoming, together with Nancy Pelosi, the FACE of the Democrat Party," the president said via social media. "Her ranting and raving, even referring to herself as a wounded animal, will make people flee the Democrats!"
Trump's comment on Thursday night was just the latest in a string of remarks about Rep. Waters' intelligence.
Trump's mention of a "wounded animal" is an allusion to a recent speech by Rep. Waters, during which she told supporters she was not intimidated by death threats being sent to her.
During a rally in front of Los Angeles' city hall, Rep. Waters said,
We have some members of Congress who are intimidated. I have no fear. I'm in this fight. And I know that there are those who are talking about censuring me, talking about kicking me out of Congress, talking about shooting me, talking about hanging me. All I Have to say is this: If you shoot me, you better shoot straight. There's nothing like a wounded animal I am prepared to make whatever sacrifices need to be made. I am not about to let this country go by the way of Donald Trump. We are sick and tired of him, he's been there too long, they dare me to say impeach him. Today I say: Impeach 45!
For Rep. Waters, the call to impeach Donald Trump follows her own pattern of rhetoric against the president, one not characterized by insults, but rather calls for Trump to be removed from office.
Since the president's inauguration, the congresswoman has long been one of his most aggressive critics. Take one example, during a recent TV interview, during which Rep. Waters responded to accusations that she was inciting violence when she told supporters to publicly shame Trump administration officials over the president's immigration policies.
"Absolutely not," Rep. Waters told MSNBC's Chris Hayes on Monday, June 25. "I would not in any way support any violence, anybody being hit or beaten, or then say to them, 'I'll help to get you out of jail.' This president of guilty of all of that."
During Trump's rally in Montana on Thursday night, the president endorsed Matt Rosendale, the Republican challenging Montana Sen. Jon Tester. Montana is a key battleground state for the November midterm elections, given that Sen. Tester will be fielding a challenge in a state Trump won during the 2016 presidential election.
"Jon Tester doesn't share your values," Trump told his audience on Thursday night, as the president naturally took aim at the Democratic senator.
Still, despite the rally revolving around an election up north, the president arguably reserved his most aggressive and uncivil remarks for a west coast Democrat.