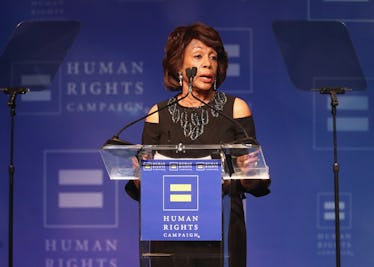 Maxine Waters Quoted Trump's Actual Calls For Violence So, No, She's Not Backing Down
Frederick M. Brown/Getty Images Entertainment/Getty Images
Maxine Waters is not backing down. Having sparked a debate about "civility" in politics, after she called for supporters to "push back" against Trump administration officials in public, the California congresswoman has made numerous television appearances to clarify her remarks. Her latest clarification was nothing near an apology, though, but rather amounted to a video of Maxine Waters reading of list of times Trump incited violence.
The point she was trying to make was clear. First, she asserted that she was not advocating for any harm to be done to political opponents. Then, she charged Trump with doing exactly that.
"Absolutely not," Rep. Waters told MSNBC's Chris Hayes on Monday, June 25. "I would not in any way support any violence, anybody being hit or beaten, or then say to them, 'I'll help to get you out of jail.' This president of guilty of all of that."
During her appearance, the 79-year-old congresswoman cited the different times Trump promoted violence during rallies.
"I'd like to punch him in the face," Waters said, quoting President Trump, who said those same words while a protester was being escorted from a rally of his in February 2016.
Beforehand, Trump commented during the rally, "You know what they used to do to guys like that when they were in a place like this? They'd be carried out in a stretcher, folks."
Rep. Waters had plenty of other instances to cite.
"Another violent statement — 'I'd like to knock the crap out of them,'" she told Chris Hayes on Monday.
That quote appeared to be a reference to a time in March 2016, when Trump told supporters to hit anyone that was about to throw a tomato at a rally.
"So if you see somebody getting ready to throw a tomato, knock the crap out of 'em, would you? Seriously," Trump said. "OK? Just knock the hell — I promise you, I will pay for the legal fees. I promise. I promise."
Waters had no shortage of material to draw from, as Trump's record of inciting violence is well documented. Still, the president has been vocal in criticizing Waters.
"Congresswoman Maxine Waters, an extraordinarily low IQ person, has become, together with Nancy Pelosi, the Face of the Democrat Party," Trump tweeted on Monday afternoon. "She has just called for harm to supporters, of which there are many, of the Make America Great Again movement. Be careful what you wish for Max!"
The next day, Trump went at it again.
"The face of the Democrats is now Maxine Waters who, together with Nancy Pelosi, have established a fine leadership team," the president said. "They should always stay together and lead the Democrats, who want Open Borders and Unlimited Crime, well into the future....and pick Crooked Hillary for Pres."
Rep. Waters original comments about "pushing back" against the Trump administration in public came during a rally in Los Angeles on Saturday.
"Let's make sure we show up wherever we have to show up. And if you see anybody from that Cabinet in a restaurant, in a department store, at a gasoline station, you get out and you create a crowd. And you push back on them," Waters said. "And you tell them they're not welcome anymore, anywhere. We've got to get the children connected to their parents."
Days later, she is moving to make clear what she meant.
"Trump is the one who is creating lies, trying to have people believe that I talked about harming people," Rep. Waters told Hayes. "There's nowhere in my statement any time, any place that we talked about harm."
Then she quoted all the times Trump did invoke violence, and she didn't have to try hard to find examples.