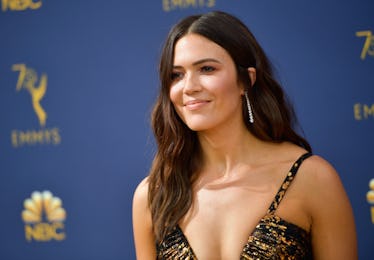 Mandy Moore Revealed The One Thing In Life That Makes Her Feel Most Powerful
Matt Winkelmeyer/Getty Images Entertainment/Getty Images
Mandy Moore is one of those celebrities who has truly stood the test of time. From bubblegum pop star in the late '90s to starring on a wildly popular, Emmy award-winning TV show (in which she gets to regularly make out with Milo Ventimiglia — just sayin'), you can't dispute the fact that she's a talented gal. She's also pretty darn relatable, and Mandy Moore's workout routine — which, she recently told Women's Health, makes her feel happy and "powerful" — happens to be one that you can do, too, my friends. And I must say, the inspiring message that Moore shared about the positive impact that mindful movement has had on her life, has me personally all in my feelings about the reasons why exercise means so much to me, as well.
According to Women's Health, Moore's workout of choice centers all around rock climbing and hiking. And, just to toot her own horn, she talked to the outlet about how she recently climbed Mount Kilimanjaro in Tanzania with her beau Taylor Goldsmith and a few friends. She posted some pretty rad photos from the adventure on her Instagram, and the actress wrote in the caption about how this was a goal she'd wanted to accomplish since she was 18 years old. I don't know about you, but I can truly see in those pictures just how much joy Moore gets from this type of exercise.
Climbing Mount Kilimanjaro is obviously an impressive physical feat, but the This Is Us star also opened up to Women's Health about what an emotional milestone this was for her. She told the outlet,
It was the most incredibly empowering experience. After you climb a mountain, you really feel as if you can accomplish anything.
Is it just me, or does this kind of make you want to book a flight to Africa with your beloved and a group of fitness-forward pals?
But listen, Moore also shared with Women's Health that, in terms of a day-to-day workout, any kind of hiking, climbing, or outdoor activity will do for her. "When I break a sweat, I feel like I've done something good with my day," she told the outlet. "I love getting outside and hiking around Los Angeles."
And even when she's not exploring different hiking trails in Los Angeles, Moore told Women's Health she's a big fan of Rise Nation, which is "a climbing-based cardio class," she told the magazine, that centers around using something called the VersaClimber. According to a July 2018 article from Women's Health, the VersaClimber is basically a workout machine that simulates the movement of rock climbing(and dang does it look hard).
It's clear that Moore loves to challenge her body when it comes to her workout routine, but what really hits home is the fact that the actress puts self-care at the top of her priority list. She told Women's Health she feels her best when she's putting herself and her health first:
I'm my most powerful when I'm taking care of myself. Working out, eating healthy, sleeping well, and finding balance are all so important.
Say it louder for the people in the back, Mandy!