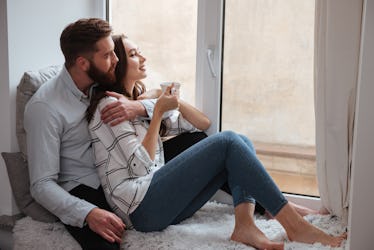 How My SO & I Made Our New Apartment Feel Like Home For The Both Of Us
Moving in with your partner into a new apartment for the first time can be nerve-wracking. You love each other, but living together for the first time could potentially put your relationship to the test. There are a lot of compatibility questions that can arise, like who showers first in the morning or who takes out the trash on which days. Another huge point of contention is decorating the space and making it feel cozy. Making a new apartment feel like home with your partner can be a challenge at first, but becomes easier with these tips.
My boyfriend and I had been dating for over three years before we moved in together, so we had a really good sense of each other's personalities, likes, dislikes, and general aesthetic. But when it came to decorating the apartment, we really had to figure out what would work for both of our tastes. Everything from the dining room set, to the couches, to the rugs was up in the air. But luckily, we were able to compromise and contribute things that were both individually and mutually selected.
From giving each other space to checking in before purchasing anything, here are five different ways my boyfriend and I helped — and continue to help — each other feel totally at home in our first apartment together.