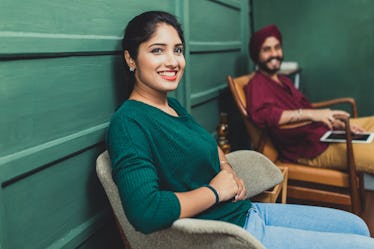 This Checklist Will Reveal If You're Moving In With Your SO For Healthy Reasons
If you're in a serious relationship, you're probably spending several nights a week at each other's places. After a while, packing overnight bags, dealing with roommates, and paying rent for two separate apartments could start to feel annoying. Whether you've been dating your SO for one month or one year, you might start thinking about moving in together. The convenience of this is appealing, the shared financial responsibility is a plus, and finding out if you two have long-term compatibility is pretty important. This checklist for moving in with your boyfriend or girlfriend could help you determine if you're ready for this step.
Moving in with your SO can be a really huge step in your relationship, so it's good to give the decision proper consideration and not make the call on a whim. "Living together provides a blueprint of what your future may hold and this is a needed determinant for partnership viability," NYC-based relationship expert Susan Winter told Elite Daily. So since this step could help you determine if you and your partner are in it for the long run, it's also good to weigh the pros and cons of such a big move. (Literally.) Being honest with yourself about your reasons for wanting to live with your partner will help guide you to making the right choice.