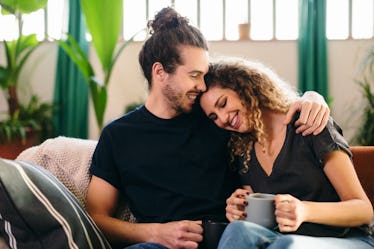 4 Mantras To Recite After You & Your Partner Move In Together, For All The Good Vibes
Moving in together is a massive relationship milestone. Regardless of how long you've been dating, merging your lives in this way is a big step towards building a long-term future as a unit. The mantras to recite after moving in together can help keep the celebratory energy of your new living situation in full swing, while also preparing you to handle any conflicts or disagreements that could arise. 
Once you've officially started living under one roof, it's pretty likely that you're going to be filled with so many positive emotions. But let's face it, navigating serious relationships aren't always easy and staying grounded during major life-shifts can be so important. When it comes to staying rooted in your truth, reciting mantras can be a great way to practice mindfulness, gratitude, and positivity, both as an individual and as a couple. Whether you're having a good or bad day, reminding yourselves of the core reasons you've decided to share a living space can keep the good vibes on blast. Plus, making time to connect with each other in the form of meditation (or any other bonding practice) can feel satisfying on so many different levels.
To get you started, here are some powerful phrases to recite once you've moved in together.