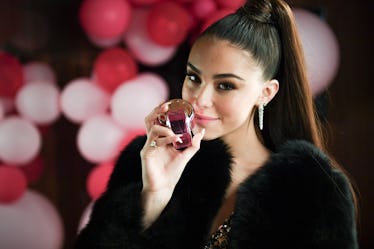 Madison Beer Spilled Her Beauty Must-Haves & The Honest AF Truth About Instagram — EXCLUSIVE
Courtesy of Bvlgari
Entertaining a hoard of over ten million Instagram followers shouldn't be easy, but Madison Beer makes it seem as effortless as the runs she threads through her powerful, playful, and soulful songs. Since aesthetics are so important on the 'gram, Madison Beer's beauty tips will probably snatch the false lashes right off your face. Though her selfies garner nearly a million likes, Beer is more concerned with the music than the makeup. Her beauty routine is actually so simple, you're sure to be shook (and run out to purchase all the products ASAP, natch).
With her penchant for high ponytails, vintage-inspired photo filters, and super simple, pare-down makeup looks, Beer is the epitome of "aesthetic goals." Just scroll through her posts and you'll be hypnotized by clips of old musical movies juxtaposed with effortless semi-candid cool girl selfies and snapshots of cult classic cartoons. Though she's so stunning it might possibly make your eyes tear, Madison Beer isn't too concerned with how the world sees her exterior. She's more concerned with the person that thrives inside. When I recently interviewed the singer and newest Bvlgari fragrance ambassador, Beer revealed her biggest beauty secrets and, trust and believe, they're the opposite of what you'd expect from an Insta-famous millennial singer.
Don't expect to see baking powder and contour kits in Madison Beer's cosmetic bag. In fact, Beer's must-haves are "Chapstick Lip Balm ($3; target.com), an eyebrow brush, and some concealer (just in case)." In a world full of chiseled cheekbones and full coverage foundations, Beer's simple approach to makeup is super refreshing. Even on date nights, you won't see Beer sporting more than natural complexion, and maybe some eyeliner. She notes that "less is more" is the best beauty tip she's every received, and she certainly does put it into practice.
Bvlgari Omnia Pink Sapphire Fragrance, $84, Sephora
Beer recently became an ambassador for the new Bvlgari Omnia Pink Sapphire ($84; sephora.com) fragrance. TBH, her bubbly persona and girly fashion sense make this partnership a match made in heaven. The scent is like an effervescent cocktail, laced with pink pomelo, frangipani, and vanilla musk notes. It's ideal for when you'e feeling like a sassy, spontaneous adventurer — so basically all of rosé season. "I think that the new perfume is so girly and light. It's perfect for summer," Beer says. "I love spraying it [on] when I'm going to... the beach, or somewhere that's bright and sunny because that's what the perfume really reminds me of."
As you may or may not know, smell is the closest sense linked to memory, thanks to close proximity of the olfactory bulb (the place in the brain that processes smells) to the amygdala and hippocampus (the areas of the brain that process emotion and memory). If you smell good, chances are you'll make a strong first impression — and if anyone makes a strong first impression, it's Beer.
I love smelling good. It's pretty much the first thing I notice about someone when I meet them for the first time. Scents really stick with me. I spray the fragrance on my neck, wrists and a little bit on the clothing that I'm wearing. I usually apply it before leaving the house."
Feeling good, whether it's through scent, music, or self care, is an important theme in Beer's life. "I try not to put too much of my energy on outer beauty," Beer explains. "I try to always proactively benefit and better my inner beauty."
Though she admits loving playing dress up with makeup, fragrance, and fashion, "it's important for people to know that those things aren't everything." Beauty is only skin deep, and Instagram cannot successfully capture everything that makes us complex and compassionate human beings.
"Instagram is great for inspiration and bad for comparing yourself to other people," Beer says, though it does provide her with a platform "to engage with [her] fans." Though Beer is clearly an Instagram mega star, she can still get caught up in the dreaded comparison loop like everyone else. And that my friends, is reassuring as hell.