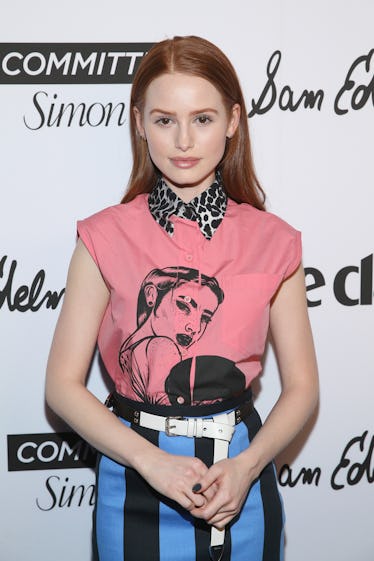 This Story Of 'Riverdale''s Madelaine Petsch Having An Anxiety Attack Will Break Your Heart
Phillip Faraone/Getty Images Entertainment/Getty Images
As humans, we tend to make mistakes on a pretty regular basis. It's basically encoded in our DNA, and more often than not, those errors are pretty easily rectified. But some mistakes are bigger than others, and Riverdale actress Madelaine Petsch learned that the hard way. And Madelaine Petsch's anxiety attack story about accidentally putting her phone number in a YouTube video will make you feel all kinds of nervous, and it's so, so relatable.
The Riverdale star (who plays Cheryl Blossom, in case ya didn't know) revealed during boyfriend Travis Mills' Beats 1 Apple Music interview the frightening story, and her growing anxiety after she mistakenly gave out her number.
"You posted a YouTube video, and you left your own phone number in it," Mills said.
"You heard it here first, ladies and gentleman," Petsch responded, somewhat jokingly. "I put my own phone number in a YouTube video because I am that much of a clumsy mess."
But don't think that Petsch just wrote down her number on a piece of paper and shared it on the screen for all of her fans to see. It was simply on the bottom of a receipt that she showed to the camera.
"I was hungry in the video and I was showing my Postmates order ... apparently, fun fact, your phone number is at the bottom of the Postmates order when you're watching it come towards you. I didn't pay attention to that at all, and I got a lot of phone calls that day, and then I changed my number."
Just put yourself in Petsch's shoes for a second, and imagine getting what was most likely hundreds of phone calls from complete strangers, not knowing why or how they found your phone number.
I don't actually pick up my phone if someone is calling though, so in my situation, I feel as though I'd probably just get a sh*t ton of voicemails.
But all kidding aside, that has to be one of the most anxiety-inducing moments of your life, and I really do feel for Petsch in this situation. She revealed that she did, in fact, have an anxiety attack from all of the phone calls she was receiving, and it's actually pretty sad and unfortunate that she had to go through an ordeal like that. She said,
I really get anxiety when people I know text and call me, so when random numbers were calling, I had an anxiety attack and just cried on my bed, and didn't even do my phone interview that I was supposed to do, and I just shut down for like a full thirty minutes.
Petsch also joked that Mills wasn't even home to help calm her down, which honestly, rings SO true for me when I get into situations where I start to panic. There's literally nothing like someone you love telling you that everything is going to be OK (even when everything is decidedly NOT going to be OK).
Petsch and Mills are actually an incredibly cute couple, and she posts a ton of photos of their love on social media, which I am totally here for. In an interview with Glamour at PaleyFest, she talked about how she doesn't care about anyone's negative comments about how open she is in showing off her relationship. "I think my generation is extremely cynical about love. I'm a huge advocate of showing my relationship online because love does exist, and I think it's so important for our generation to know that love will win. No matter who you love, what you love, it will win."
Yasss, queen!
So just remember, guys: double, triple, and quadruple-check any information you put out online, because who wants to go through the process of changing your phone number? Not me, that's for damn sure.