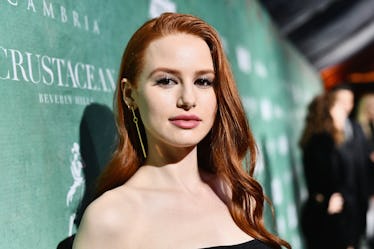 Cheryl Blossom Stars In 'Riverdale's Musical & Fans Want To Know If Her Voice Is Legit
Emma McIntyre/Getty Images Entertainment/Getty Images
After another long hiatus (doesn't it seem like there have already been 12 this season?), Riverdale finally returns to The CW this Wednesday, April 18 for a long-awaited musical episode. The teenagers of Riverdale High are taking on Carrie: The Musical, the horror-filled Broadway show about a telekinetic girl and her fraught relationship with her mom. In picture-perfect casting, Cheryl Blossom, played by Madelaine Petsch, will be taking on the iconic role of Carrie, but as excited as fans are, they have one very important question: Does Madelaine Petsch actually sing? Petsch's Cheryl can take on Carrie any day, but a singing, dancing, Broadway-inspired Carrie? That's a much more difficult task.
If you've followed Riverdale throughout its two seasons, then you know that practically everyone in the town of Riverdale can sing. Seriously, is there something in the water up there? Pretty much the only character who hasn't burst into song at some point in Jughead, but that's because he's weird. He's a weirdo. He doesn't fit in. Sorry, couldn't help myself.
Anyways, Cheryl doesn't sing much in the show, but she did appear in Josie and the Pussycats' slow jam performance of "Milkshake" in the Season 2 episode "Nighthawks." Who could forget the group's sexy performance on top of Pop's? Cheryl excels at wearing over-the-knee boots and dancing on elevated objects (she'll do great in college), so this concert was pretty much tailor-made for her. Josie doesn't let just anyone into the Pussycats, so Cheryl must have a pretty good voice — and that makes me think Petsch does, as well.
Apart from Cheryl's performance with Josie and the Pussycats, Petsch doesn't flex her singing muscles much. Whereas co-stars like KJ Apa sing and play the guitar IRL — he's even released a solo record — and Camila Mendes and Lili Reinhart love to post fun vids of them karaoke-ing, Petsch prefers to keep her singing talent on the DL. But in Carrie: The Musical, she'll finally get a chance to showcase her incredible skills and prove to her peers that she's a force to be reckoned with (as if they didn't know that already). According to Variety, the episode will feature 11 songs from the original musical, many (if not all) of which will feature Petsch. Maybe Petsch will even get to rap a little bit, like she did at San Diego Comic Con in summer 2017.
Petsch may be a little nervous about having all the singing attention on her, for once, but Cheryl definitely doesn't feel the same. Have you ever seen someone so confidently declare that they're going to take the lead role than Cheryl did in the last episode, "The Noose Tightens?" Cheryl can literally deal with anything — in the last few months, she's broken out of a conversion camp, burned down her family's mansion, and freed F.P. Jones from prison — so I'm pretty confident that she can take on a little high school musical, even one as dark as Carrie.
It seems like Riverdale creator and showrunner Roberto Aguirre-Sacasa agrees. In a recent interview with Variety, he explained that casting Cheryl in the lead role was a no-brainer:
Cheryl's a character who can basically do anything she wants because of who she is, but when you think about the reason that Cheryl wants to be the lead in the music is to prove to the town that she wasn't broken by what her mother's done over the last few weeks, then that story takes a deeper resonance.
At its core, Carrie is about the toxic relationship between a daughter and her mother, and if that doesn't describe Cheryl's relationship with Penelope Blossom, I don't know what does. Unfortunately (or fortunately, because Penelope is the woooorst), Cheryl's mom won't be appearing in the production, but expect another Riverdale matriarch to make an appearance: Alice Cooper, Betty's mom, will be playing Margaret White (Carrie's mother). Betty lashes out at her mom pretty often, but no one does teenage angst like Cheryl, so I can't wait to see what the Alice-Cheryl dynamic is like.
The CW has already released a few videos from the musical episode, so you have plenty of time to appreciate Petsch's singing voice before she gets her big break.
Riverdale airs at 8 p.m. ET Wednesday on The CW.