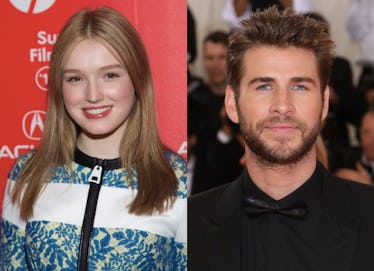 Maddison Brown Jokingly Explained Why She'd "Never Marry" Liam Hemsworth
Michael Hurcomb/Corbis Entertainment/Getty Images + Taylor Hill/FilmMagic/Getty Images
Miley Cyrus and Cody Simpson are officially an item, and it seems like her ex Liam Hemsworth has decided to slide away to someone new, too. Two months after announcing his split from Cyrus, Hemsworth was spotted on Oct. 10 holding hands with fellow Australian actor Maddison Brown. It's not surprising that he's moved on, but if you heard Maddison Brown's quote about Liam Hemsworth on Zach Sang Show back in June 2019, you might be surprised by the match. During the interview, Brown claimed she would "never marry" Hemsworth — but let me give you some context before you freak out.
Brown appeared on the show alongside her Dynasty costar Liz Gillies, where they participated in a good-natured game of "F*ck, Marry, Kill." Margot Robbie, Hugh Jackman, and the Hemsworth Brothers were presented as their contenders, and Brown had some pretty strong feelings about all of them. Her final answer: eliminate Jackson, tie the knot with Robbie, and sleep with the Hemsworth brothers, because she could never marry them. Why, you ask? According to Brown, the Aussie bros are "too attractive" and she's "too insecure." Oh, the irony! (Elite Daily reached out to reps for Brown and Hemsworth about their rumored relationship but didn't hear back in time for publication.)
Despite joking about her fictitious future husband in an Instagram post around the same time as her Zach Sang Show appearance, Brown hasn't been romantically linked to anyone in recent years. And despite his ex's two very public romances following their split, Hemsworth has reportedly remained single since filing divorce papers. Even as recently as Oct. 9, Us Weekly reported that Hemsworth was unattached and "open to meeting new people." But then again, it was only four months ago that Brown claimed Hemsworth was too hunky for her, so I guess anything is possible.
Just one day after Hemsworth's single status was reported, he and Brown were seen walking through New York City's West Village holding hands after supposedly enjoying a romantic dinner together at a local Italian restaurant. TMZ even snapped some pics of the maybe-couple on their maybe-date, and I may be already shipping these two. After all, they're both tall, Australian actors. Sounds like a pretty good match to me!
Only time will tell if these two are an actual couple, but here's what I really want to know: Does Brown have special powers? I mean, she basically summoned Hemsworth into her life, and if that's not magic, then I don't know what is. And sure, she said she would rather spend her life with Margot Robbie than a Hemsworth bro, but her reasoning actually made a lot of sense, and Gillies even agreed with her. "I could never be with someone incredibly attractive," Gillies said in response to Brown on the show. "I'd freak out." Now I'm freaking out for a whole other reason. Whatever you did to make this rumored union happen, Maddison, I give you major props.