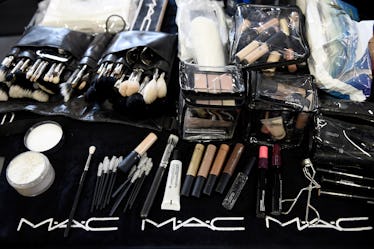 MAC Cosmetics Is Having A Surprise Sale & You Can Score Half Off Cult-Favorite Products
Ian Gavan/Getty Images Entertainment/Getty Images
Happy Thursday! There's only one more day until the weekend officially hits but even without that sparkling informational tidbit today is bound to be an exceptionally great one. MAC's surprise sale is going to guarantee that you go to bed with a smile on your face tonight thanks to insane discounts on limited-edition products. Because who doesn't love a good unexpected deal every now and again, right?
Considering the sale is on the total down low (MAC didn't loudly advertise it and we honestly wouldn't have known about it ourselves were it not for Hypebae's stellar sleuthing skills), you're not at risk of it selling out in a flash. Not yet, anyways, but I'd check it out soon to make sure that doesn't become the case. Head to the retailer's website, click on their "Goodbyes" sale section, and enjoy perusing the offerings, which are slashed at up to 40 percent off. On sale now are a slew of products from MAC's past limited-edition collections, like those done in collaboration with Nicki Minaj, Chromat, Patrick Starr, and Jade Jagger. Yes, the secret sale is loaded with star power—I told you you it would totally make your day!
Peruse some of the best collab items in the sale below along with a few other MAC favorites that are also discounted.
Barbie Tingz
The ultimate lipstick for all you Nicki super fans out there! Available in two shades including a soft coral-pink and a mid-toned pink, this lipstick boasts a creamy pigmented finish. Bullets matching each shade make the lipsticks look super sleek.
Four's Company
From everyone's favorite social media beauty star (or, should I say, "Starr") comes a palette of four earthy eyeshadow shades. Blendable and useable either wet or dry, the shades are guaranteed to apply with the utmost ease. The shades include Amber Lights, a peachy brown with shimmer; Soft Brown, a golden peachy brown; Swiss Chocolate, a muted reddish brown; and I'm Into It, a dark red brown.
Sheen With Envy
If you don't love a shimmery eye every now and again then we probably won't have much in common. This loose color powder is specially formulated to adhere to skin and also claims to not streak or cake. (Score!) It's perfect for a wild night out dancing; pair it with an all-black look and smudgy black eyeliner and you'll give off major edgy vibes.
Why So Blue?
If you're not familiar with Chromat, they're an amazing brand that is doing huge things regarding inclusivity and diversity within fashion. The fact that they've expanded into beauty therefore makes me very, very happy. This lipstick, which comes in a shocking shade of aqua blue as well as a candy red, will certainly turns heads. It's packaging is equally arresting.
Stick it To Me
This double-ended, multi-use stick has you covered for all of your bronzing, highlighting, and contouring needs. It's super convenient and perfect for all of you girls on the go. (So, all of us?)
Moves Like Jagger
A product of another big name collaboration, this lipstick is infused with MAC's Multi-Mineral Moist Complex, meaning it'll leave lips ultra nourished. It boasts a lightweight, non-sticky formula and comes in three shades with medium-shine finishes.
Glass Act
If you like blinding shine, Lipglass might just be your favorite product. Created in collaboration with Patrick Starr, this collection is available in three colors that will leave your pout with a high-gloss finish sans sticky mess. (They're nothing like the lip glosses you wore in high school.) Each one contains jojoba oil to help soften and condition lips.