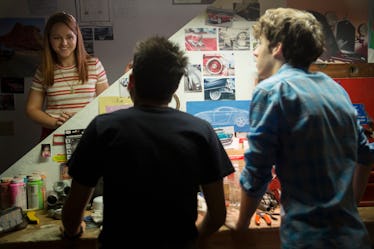 Mackenzie From '13 Reasons Why' Reveals Details About Tyler & I Need Season 3 – EXCLUSIVE
Netflix
Every teen drama needs a sweet romance to truly solidify its status as a record of the teenage experience, and Season 2 of 13 Reasons Why checked off that box with its reveal of Zach and Hannah's secret summer fling. Receiving a little less screen time was the short-lived romance between Mackenzie and Tyler, but Mackenzie's understanding of conflicting outsider Tyler appealed to fans, making Tyler's own Season 2 ending even more heartbreaking. Elite Daily spoke to Chelsea Alden, who plays Tyler's artistic new love interest, and she revealed details about Tyler that will make you crave a Season 3 ASAP.
First appearing in Cyrus's merry band of misfits in Season 2, Mackenzie quickly extinguishes any fan assumptions that she shares Cyrus's edgy, almost intimidating persona. She introduces herself to Tyler, who is clearly smitten at first sight, and when the show reveals that she's Cyrus's sister, 13 Reasons Why proceeds to turn that beloved "guy dates his friend's sister" trope upside down. While Tyler's controversial photographs of Hannah continue to get him into trouble with other peers, Mackenzie represents a clean slate for Tyler, being one of the seemingly few Liberty High students who is disconnected from the details of Hannah's death.
Alden, whose past work includes guest stints on NCIS, Veep, and Grey's Anatomy, interprets Mackenzie's willingness to befriend Tyler as her trait to "see beyond what other people are willing to see."
"I think we see as a theme throughout the show [that] these characters are concerned for their reputations, for the truth to come out, and for their stories to be told because of the repercussions of what may happen to them," Alden says. "Mackenzie, though not involved in Hannah's particular storyline, doesn't really seem to have been affected by that in her day-to-day experience, and I think that's what's so refreshing about her."
Mackenzie and Tyler's relationship reaches the next level when Mackenzie asks Tyler out on a date, creating one of the few 13 Reasons Why scenes that likely inspired many viewers to cheer, "yas, girl!" After all, when was the last time you saw a girl ask out a guy on scripted TV so confidently? For Alden, the bold moment summarizes the core of Mackenzie's honest character.
"Hopefully people will want to take a page out of her book and realize that it's OK to think what you want to think, ask out the boy, ask out the girl if you want," she says. "Just because someone says no, that's not an invalidation of who you are or what you think. That's just their opinion and you can move on and live your life however you choose to live it."
However, the seriousness of the Season 2 finale tarnishes the innocence of the friends' early relationship. Tyler confides in Mackenzie about his plan to start a school shooting so she can save herself from the carnage. Instead of leaving the school dance for safety, Mackenzie tells Clay about Tyler's intentions, resulting in Clay disarming Tyler and Tony rushing him away in his car. With police sirens wailing in the distance, the season concludes with Tyler's gun still in Clay's clutches.
The question of Tyler's whereabouts has been left open for a still unconfirmed Season 3, but Alden is just as curious as we are about what the scenario means for Tyler and Mackenzie's future. Although Mackenzie moves on with another guy in Tyler's absence from school, Tyler clearly still values their bond, suggesting that they'll face their own romantic drama in another season.
"She definitely has an invested opinion as to how his life moves forward from here," the actress shares. "I think her intention with going to Clay is out of sheer love and concern for [Tyler] and also, of course, the repercussions of what could potentially happen if he goes through with anything. I'm very intrigued to see how their storyline might play out in the future, if Mackenzie continues to be Tyler's ally and help him move forward and move out of the trouble that he's been facing... or if she becomes scared."
While Tyler certainly has more lessons to learn about himself, he could also turn to Mackenzie for guidance on forgiveness and admitting one's flaws. "Even after Tyler runs out on her [on their date], she still feels the responsibility for having spread that story, for even having told people because it wasn't fair to Tyler," Alden says. "She goes to him to apologize and make things right, so I'm hopeful that maybe Mackenzie can teach people that it's never too late to say you're sorry or take responsibility for your actions."
Alden hasn't read any of the current fan theories about Tyler's fate, but one amateur guess revolves around Season 3's narration stemming from police questioning about Tyler's location. Reddit users have suggested that Mackenzie could be among the interrogated witnesses, allowing for an exploration of her backstory if the show returns for more episodes. Although her connection to Tyler is likely to dominate much of her potential storyline, Alden has her fingers crossed for more information about Mackenzie's past.
"I would love to know more about Mackenzie and Cyrus and how they sort of came to be at Liberty High," she shares. "Clearly, [there are] some cool punk influences with Cyrus, and Mackenzie clearly looks up to him and admires him, so I'm curious to see how he came to be this punk."
Netflix remains tight-lipped about the likelihood of 13 Reasons Why receiving a third season, but Mackenzie's involvement in Tyler's progress will inevitably introduce more focus on difficult topics haunting today's teens.
"It may not be appropriate for everyone, but it's a really powerful show," Alden says of 13 Reasons Why, "and there are a lot of great resources that Netflix is taking responsibility to put out there to help people who do want to talk about it, and I'm proud to be a part of that voice."
If you or someone you know are experiencing suicidal thoughts, call 911, or call the National Suicide Prevention Hotline at 1-800-273-8255.