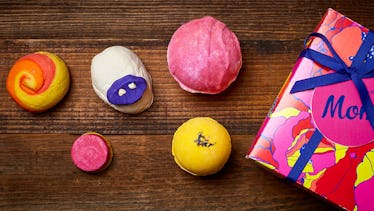 Lush Just Dropped New Bath Bombs For Mother's Day & Your Mom Is Going To Freak
We all know that moms are what make the world go round. Their unconditional love, good advice, and understanding nature render them superheroes, in my book, so it's exceedingly appropriate that we honor them with a special day of celebration once a year. Lush Mother's Day 2018 collection is here to make that celebration even better, thanks to a range of products that promise to spoil even more than their usual offerings.
Before I get into the details, I want to shout out my own mom, or "Maman," as I call her, for a minute. She has been there through all of the crazy I've thrown at her (trust me, it's been a lot), always with an open heart, an open mind, and open arms. No mom-daughter relationship is ever perfect but it's almost always unparalleled. I don't know where I'd be without my mom!
When I was growing up, my Maman developed a nightly ritual of taking a long, relaxing bath. I think now that it was probably to get away from the aforementioned craziness of her two daughters for a hot second (my sister and I were terrors together), which I wholeheartedly understand. She continues that ritual to this day, though, which is what makes Lush's collection that much more perfect.
As described on their website, it's filled with "limited-edition self-preserving indulgences" that will make your mom feel like she's enjoying a high class spa day. From bath bombs and soap to a massage bar and bubble bar, the products offered are indeed luxurious. And with names like "Mother of Pearl" and "Incredible Mom," they truly are the perfect gifts. Shop some of my favorite products below (see the whole collection here) and don't forget to accompany them with a big hug when you give them to your mom on May 13.
Wonder Woman
Everyone loves Lush's bath bombs — they're what the company is most known for for a reason. Along with grapefruit oil, this one contains petitgrain oil, which tones skin, as well as cornflour, which helps keep your skin uber smooth and soft. And F*ck yes to its name — one day.
Best Buds
Lavender will forever remind me of my mom. Like me, she's a total Francophile and used to wear lavender perfume from the south of France religiously. This soap bar, which also contains rose, hibiscus, and violet leaf, would make the perfect gift for her. Or any mom, really. It also has fair trade organic cocoa butter and extra virgin coconut oil in it, meaning soft, hydrated skin is just a use away,
Cool Mom
This product makes me lol. It's a fidget spinner bath bomb and while I'm not sure most moms would understand that, I find it clever. As Lush instructs, "hold the spinner under running water for pink waters, fluffy bubbles and the same heavenly lavender and tonka perfume we use in our bestsellers Sleepy Body Lotion and Twilight Bath Bomb."
Mom is Where the Heart is
This bath bomb, which looks charmingly homemade, contains coconut milk powder and almond essential oil, which basically sounds like vacation in a soak. Cocoa absolute, coconut blossom nectar and chocolate extract round it out for an especially sweet effect.
Fuzzy Feelings
This is almost too cute to use! This little bear-friend contains fair trade organic cocoa and shea butters for optimal skin hydration. An array of other decadent ingredients — honey, vanilla absolute, vegan dark chocolate and tonka absolute — combine to result in a super decadent scent. It basically sounds like dessert in a bar, and who doesn't love receiving a sweet treat?