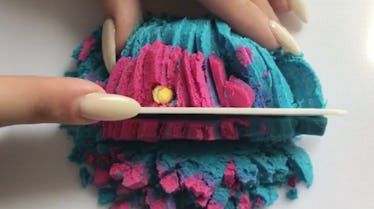 Innocent Lush Bath Bombs Are Being Destroyed In These Videos & We Can't Look Away
There's truly nothing better than a Lush Bath Bomb after a very stressful day of work, or in 2017, a long day of simply existing. Let's be real, just remaining upright these days can be tiring, and you deserve to indulge. Though most of us throw our Lush products in the tub and take a dip, one Instagrammer opts for a decidedly alternative route with her beautiful Lush bath bombs, and PSA, the following content may be upsetting to some readers.
Instagram user Andrea, aka @therosequeenn, chops up her precious bath products, Sweeney Todd-style, for the anarchic viewing pleasure of her 30,000 followers. And if you plan on viewing her 700+ posts, make darn sure you have your volume all the way up. The sound of the knives hitting the cutting board and soft Bubble Bars crumbling will send ASMR shivers up your spine.
Lush Bath Bombs are truly beauties to behold. Have you ever seen The Experimenter ($9; lushusa.com)? If it were on display in the Museum of Modern Art, I don't think any patrons would even do a double take. I can't imagine ever taking a sharp object to such a whimsical objet d'art, so when I watch Andrea's videos, I feel shock. Somehow, cutting up these tub treats somehow makes them...more beautiful? If you don't believe me, just take a look for yourself. Here, @therosequeenn proves she really is the Rose Queen by chopping up Lush's Rose Jam Bubble Bar ($9; lushusa.com) together with the Pink Pumpkin Bubble Bar ($8; lushusa.com).
I'm low-key obsessed with how beautiful the mashed-up remix of pink bubble bar chunks looks on camera. It's so soft, bright, and glittery. I can almost smell the rose scent through my computer screen. And the sound of the knife consistently hitting the cutting board? Soothing AF.
But not all bubble bars surrender so easily. Just watch Andrea's attempt to slice through the seasonal Modfather.
The whole time I had major anxiety that she would accidentally cut through her finger and there would be blood everywhere and that would just be a waste of a good bubble bar.
Now, prepare to be mesmerized by the chopping of the Sparkly Pumpkin ($8; lushusa.com), which is so darn extra.
Just watch her cut this gold, glittery goodness into small strips. The way the slices of bubble bar move is magical, like the Outkast song "I Like The Way You Move." Did you ever play with kinetic sand as a child? It sort of looks and reacts like that.
She then cuts the bubble bar in the opposite direction and the original slices seem to mend themselves back together? What is this witchcraft, Lush? So strange and so mesmerizing.
But do not fret over wasted bath products, my friends. Andrea saves all her bubble bars crumbs and dust and uses them for her baths IRL, and I guess she just misses out on the satisfying dissolving action.
In addition to bath bombs and bubble bars, Andrea also cuts up Shower Jellies, like Sweetie Pie.
And sometimes, she even cuts up Fun Bars...($13; lushusa.com).
How mesmerizing is this? I want to live inside this rainbow goodness.
Occasionally, she does use products simply in the way that they were intended, so talk about a snooze fest.
But every shot is still a colorful feast for the eyes.
All of her videos and pictures are aesthetically pleasing for all of the senses. She should really have a job at Lush shooting all their promotional imagery.
Andrea's fan base is truly devoted to her content as well. They have strong opinions about her nails, the knife she uses, and the pace of her chopping. But they all agree that her videos are "addictive" and that they "can't stop watching."
So if you, too, can't look away from Andrea's magical Lush chopping videos, I suggest you follow her on Instagram. You may not be able to own and chop all these bubble bars and bath bombs yourself, but the very least, you can chop away stress vicariously through her highly-sensorial life.