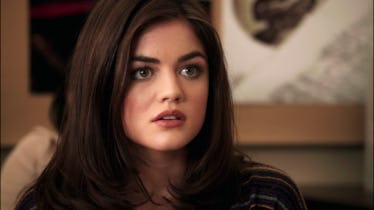 Lucy Hale Reveals Why She Almost Wasn't In 'Pretty Little Liars' & It Will Make You Miss Aria
Freeform
Can you even imagine a world where PLL's Aria Montgomery was played by an actress other than Lucy Hale? The Liars we came to know and love (and often get very frustrated with) over the years are imprinted in our minds forever. But, alas, the Pretty Little Liars cast that came to be was almost Lucy Hale-less. The performer is now revealing that she almost didn't take the role on the hit Freeform series that catapulted her to household name status. We're glad you came to your senses and made the right call, Lucy.
Hale explained to Cosmopolitan that she came close to turning down the part because she had another big offer waiting in the wings. When it comes down to it, sometimes trusting to your instincts pays off. "I was offered another pilot, but my gut kept telling me to go towards Pretty Little Liars," Lucy told the mag. "There was just something about that name that kept replaying in my head and I knew that that was probably the right decision to make."
Yes, Pretty Little Liars does have a nice intriguing ring to it... And the teen mystery drama was based on the successful book series by author Sara Shepard. But that doesn't mean heading to Rosewood was a sure thing in Lucy's mind right off the bat.
"It's very easy to get excited about the glitz and glam of something, or how much you're getting paid for something, or get distracted by who else is involved," Lucy added about the decision-making process that ultimately led her to Pretty Little Liars. "But I think the reason I made the choice for PLL was that creatively it really excited me."
Snaps to Lucy for picking creative fulfillment above all else. Pretty Little Liars ran for seven seasons and became one of ABC Family-turned-Freeform's highest rated programs.
Lucy may not have passed on PLL, but in an alternate universe she could have nabbed the part of Hanna Marin. Show creator Marlene King reminisced about the cast's auditions in Variety's TV podcast earlier this year and revealed how Hale originally wanted the role that went to Ashley Benson:
Lucy didn't audition. She was coming off of "Privileged" and everybody wanted to do a TV show with her. I grabbed a coffee with her … and she had read the script and she loved it, and she wanted to play Hanna and I didn't think she was a Hanna; I thought she was an Aria, so I said, "Go home and read it again." She read it again and she chem read for both roles with a couple of guys, and once she started doing her scenes, she's like, "You're right. I'm Aria."
Pre-PLL Lucy Hale had already had a pretty impressive resume before she slipped into Aria Montgomery's platforms, as she had starring roles on shows like Privileged and The Bionic Woman. Now that her Liars chapter is over, luckily we won't have to wait very long to see her on the small screens again. She'll be headlining Life Sentence, an upcoming series about a woman who survives a battle with cancer, but now has to live with all the choices she made when she thought she was dying. It hits CW's midseason lineup in 2018.
There was also speculation floating around that Lucy would be joining the cast of Riverdale in one way or another, but that didn't exactly pan out. Yet? Fingers crossed, although the two CW shows look like they take place in vastly different genre worlds. Maybe we can hope for a cameo. Lucy would make an excellent addition with all that murder mystery-ing and amateur sleuthing experience under her TV belt.