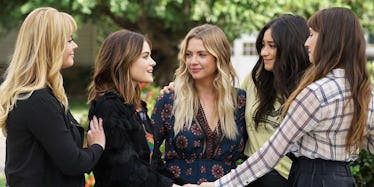 Fans Think This 'PLL' Star Is Joining 'Riverdale' Because Of An Instagram Comment
Eric McCandless/Freeform
Pretty Little Liars is over, but now one of the stars may be moving on to the CW's other dark teen drama murder mystery show. Yeah, not much of a leap from PLL to Riverdale (the shows are often compared to one another), but at least we already know she can nail the murder-y teen genre!
We can all thank Instagram comments for the possible new Riverdale casting scoop. Madelaine Petsch, who plays the catty and campy Cheryl Blossom, posted this adorable pic of herself, Lili Reinhart (Betty Cooper), Camila Mendes (Veronica Lodge), and Ashleigh Murray (Josie McCoy) posing on set.
Now, initially, the big reveal of the photo was the appearance of Josie in a Riverdale Vixens cheerleading outfit. The singer has remained mostly separate from the main cast in Season 1 — aside from mentoring Archie in his musical aspirations — but now it looks like she'll be joining up with Betty, Veronica, and Cheryl as a Vixen next season.
But Josie as a Vixen wound up only playing second fiddle to the possible reveal occurring in the comments section. Lucy Hale, best known for playing Aria on the recently concluded Pretty Little Liars, commented that she wanted to PhotoShop herself into the pic, to which Petsch replied they'll recreate it when she's there.
Ummm, when she's here!? Here, as in on the set of Riverdale!? Obviously, fans assumed this little convo was confirmation Lucy Hale is set to appear on Season 2 of Riverdale. Then again, she could just be visiting the set of her fellow CW show. But let's hope for the former.
The next question would be who would Lucy Hale be cast to play in Riverdale. The major Archie Comics character Riverdale viewers have been waiting to see appear on the show is Sabrina the Teenage Witch. Unfortunately, the famously blonde witch doesn't really resemble the brunette Hale, but hey — wigs and hair dye exist for a reason!
Season 2 of Riverdale is slated to premiere on October 11.