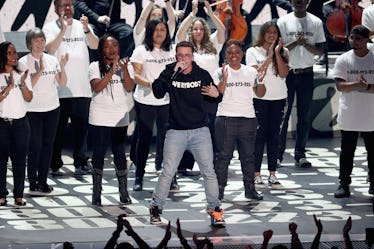 Logic's Performance At The Grammys Will Give You Serious Goosebumps
Frederick M. Brown/Getty Images Entertainment/Getty Images
You don't get nominated for Song of the Year without having some serious impact. That's why when it was announced that Logic would be performing his Grammy-nominated hit at this year's award show, it was a big deal. And it did not disappoint. Logic's performance of "1-800-273-8255" at the Grammys this year was so emotional and so moving.
The song is pretty intense — it focuses on the perspective and experience of someone struggling with suicidal thoughts, trying to talk themselves out of ending their life. The title of the song — "1-800-273-8255" — is the number for the National Suicide Prevention Lifeline, and the lyrics describe a person explaining that they don't want to be alive anymore. So it was to be expected that Logic's performance on Jan. 28 was going to be pretty emotional.
The performance itself was very simple. Logic, and featured artists Alessia Cara and Khalid (two Best New Artist nominees), performed without much production. They were joined onstage by a diverse group of people donning t-shirts with the phrase "You Are Not Alone" and the song's title, which is, again, an actual phone number for a suicide prevention hotline. You can watch the full performance below:
Despite the awareness that the song's lyrics bring to suicide prevention, Logic also decided to draw attention to a very different issue. In the final moments of his performance, which you can watch below, Logic called out President Donald Trump and the offensive comments that he's been criticized for. Specifically, a recent comment that he allegedly made, where he said countries like Haiti are sh*tholes. (Trump denies ever saying this.)
Even though Logic changed the subject of his performance by way of the closing speech, it didn't make it any less powerful. And it's not the first time that a performance of this song has gotten people in the feels.
Back in August of last year, Logic performed "1-800-273-8255" at the MTV Video Music Awards, accompanied by a crowd of people wearing shirts emblazoned with the phrase "You are not alone" and the National Suicide Prevention Lifeline number. Afterwards, he stopped to thank his fans for listening to him talk about something so intense. He said,
I just want to take a moment right now and thank you all so much for giving me a platform to talk about something that mainstream media doesn't want to talk about. Mental health, anxiety, suicide, depression and so much more that I talk about on this album. From racism, discrimination, sexism, domestic violence, sexual assault and so much more.
In the hours after his performance, calls to the National Suicide Prevention Lifeline increased by 50 percent, according to USA Today — powerful proof of the real-life effect that this song is having on people who need help.
Logic has taken it to heart.
Suicide is the second leading cause of death for people aged 15-29 worldwide, according to the World Health Organization (WHO). Around 800,000 people take their own life every year.
In an interview with Genius, Logic talked about the meaning behind the song and realizing the effect he had on people. He said,
When I jumped on a tour bus that started in Los Angeles, California and I ended in New York City and did a fan tour where I went to fan's houses and shared meals with them, hung out with them, played them my album before it came out. Them along with other people on tour, just fans that I met randomly, they've said things like, 'Your music has saved my life. You've saved my life.' And I was always like, 'Aw so nice of you. Thanks.' And I give them a hug and shit but in my mind, I'm like, 'What the f*ck?' ... I was like, 'Man I wasn't even trying to save nobody's life.' And then it hit me, the power that I have as an artist with a voice. I wasn't even trying to save your life. Now what can happen if I actually did?
So it's no surprise that the song has been honored.
"1-800-273-8255" was nominated for two Grammys — both Song of the Year and Best Music Video, for the video that depicts a young man struggling to come to terms with his sexual orientation and fighting the urge to end his life.
When suicide is increasingly, heartbreakingly in the news, and when it tears apart so many people, lives, and families, it's fitting that this song was recognized and nominated for an award.
If you or someone you know may be at risk for suicide, you can call the Trevor Project's 24/7 Trevor Lifeline at 866-488-7386 or the National Suicide Prevention Lifeline at 800-273-8255.