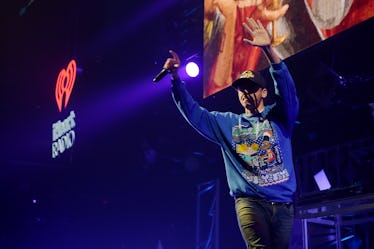 Logic's Song "1-800-273-8255" Has A Really Important Meaning
Gustavo Caballero/Getty Images Entertainment/Getty Images
Will Logic make history on Sunday, Jan. 28, as the first-ever rap artist to win Song of the Year? There's a lot of buzz that he might just take home the big prize. It would be pretty amazing if he does, since the single he's nominated for has such a powerful meaning. What is Logic's song "1-800-273-8255" about? The emotional anthem is actually so important, since it's named after the phone number for the suicide prevention hotline.
The song, which features Alessia Cara and Khalid, is featured on Everybody, Logic's third studio album. It starts off from the perspective of someone calling the 1-800 number for the National Suicide Prevention Lifeline, and then telling the person who picks up the phone that they don't want to be alive anymore.
Some of the lyrics read:
I've been on the low/I been taking my time/I feel like I'm out of my mind/It feel like my life ain't mine/Who can relate?
Pretty dark stuff. But while intense, the song takes a hopeful turn as Logic attempts to assure the caller that someone is there for him.
I want you to be alive/I want you to be alive/You don't gotta die today/You don't gotta die/I want you to be alive/I want you to be alive/You don't gotta die
In a series of tweets following the song's release back in April, Logic explained what inspired him to write "1-800."
"Over the years so many of you guys have told me that my music helped you through so many tough times," he wrote. "Many of you have told me it's even saved your life... But I felt I haven't done enough. I felt compelled to make a song that could actually help you."
So that's exactly what he did. On April 28, 2017, the day the song was released, the National Suicide Prevention Lifeline received 4,573 calls. It was the second-highest total in the organization's history, after the day Robin Williams died.
And when Logic performed the song with Alessia Cara and Khalid at the MTV VMAs last August, the trio was joined mid-tune by several suicide survivors wearing white t-shirts printed with the toll-free number on the front, and the words "You Are Not Alone" on the back. After the powerful performance, call volume to the hotline increased 50 percent.
"We are so grateful to Logic and his efforts in suicide prevention," Dr. John Draper, Director of the National Suicide Prevention Lifeline, told Forbes. "While his song has certainly prompted more persons to contact the Lifeline over the past few months, its greater message that healing and hope are happening for people in a suicidal crisis has a broader public health impact that can't fully be measured."
Now Logic, Cara, and Khalid are once again set to perform "1-800" at the upcoming 2018 Grammy Awards on Sunday, Jan 28, alongside another group of suicide attempt and loss survivors.
I love the way they are taking this important message as far as it will go in order to let those who are hurting know they are never alone.
Meanwhile, "1-800-273-8255" will also be up for a Best Music Video on Sunday night. The seven-minute short film features young actor Coy Stewart as a bullied teenager struggling with his sexuality, Don Cheadle as his father, Luis Guzman as his coach, Modern Family's Nolan Gould as the classmate Stewart is in a relationship with, and Matthew Modine as that classmate's father.
Other scheduled performances at the Grammys — which will be hosted by James Corden at Madison Square Garden and will air live on CBS at 7:30 p.m. ET — include Lady Gaga, Pink, Childish Gambino, Ben Platt, Little Big Town, Patti LuPone, Bruno Mars and Cardi B, and Luis Fonsi and Daddy Yankee.