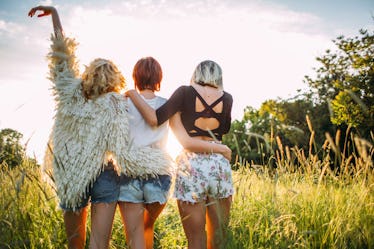 Why Living With Your Sorority Sisters Is The Highlight Of Your College Experience
You'll never forget the college days spent with your sisters. They're your group of besties, and they genuinely make your four years so much more adventurous. Living with your sorority sisters will quickly make you realize it doesn't take a shared bloodline to consider people to be your family.
If you need your mains for anything, all it takes is a knock on their door. It's college, too, so it's only reasonable to mention how lit your living situation is with them. You girls turn anything into a good time, and make sure to celebrate the smallest and biggest conquests in life. I mean, even a passing grade on a midterm is worth a pizza and wine night (if you're 21 and up).
You can't even refer to your sisters as roommates, because they're so much more than that. They're your study buddies, family, protectors, and all-time best Netflix and chill companions. Your college days are filled with making memories with them and the grand experience of sharing a home together. In fact, it will be the one thing you miss most about college.
Everyone's Greek life experience is different, and if you live with your sorority sisters, you know you're beyond blessed. Needless to say, if your big, little, and sisters snooze under the same roof as you, you can relate to these eight things.