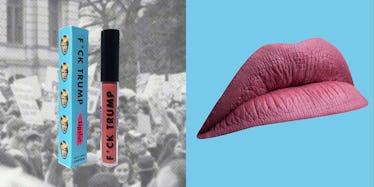 This Brand Is Donating Proceeds From Its "F*ck Trump" Lipstick To Fight Trump's Immigration Policy
If a zero-tolerance immigration policy isn't your style, welcome to the club. No, the club doesn't have cool jackets or a handshake, but it does have a signature lip shade, thanks to Lipslut's F*ck Trump Lipstick. If this sounds like the type of product you've dreamed of proudly rocking, then you're in luck, because it's very real, very cute, and all about doing your part.
For those of you who clicked purely because you're a fan of a good mid-tone pink lip, allow me to provide some background. In case you haven't heard, President Donald Trump recently issued a zero tolerance immigration policy. This new policy involves prosecuting those adults who illegally cross the country's border — but not the children. According to the Department of Homeland Security, the policy states that "children whose parents are referred for prosecution will be placed with the Department of Health and Human Services (HHS), Office of Refugee Resettlement (ORR)."
This policy has resulted in young children being forcibly separated from their parents at the country's border and placed into "tender age shelters," according to the Associated Press. Not surprisingly, the scenes inside U.S. Border Patrol facilities, which horrifyingly featured children fenced in chain-link pens, and accounts from immigrants themselves — one involving a baby taken from her mother while being breastfed, according to CNN — have caused a public outrage.
Worst of all, despite President Trump signing an executive order on Wednesday, June 20, to cease the separation of children from their parents at the border, a statement from Kenneth Wolfe, a spokesperson for the Administration for Children and Families, to The New York Times makes the prospect of already-separated families reuniting seem unlikely.
Many Americans are taking to Twitter and other platforms to share their opinions on the crisis at hand. Michelle Obama even stepped up to call the policy "cruel" and "immoral." In a major power move, Chrissy Teigen "celebrated" President Trump's birthday by donating $72,000 for each member of her family to the American Civil Liberties Union (ACLU) to protect and defend at-risk families. She encouraged her fanbase to donate as well, and in just two days, she reported that 20,000 donors had given a collective $1,000,000. This is progress.
You may be wondering, "How else can I donate to show my support?" Cue Lipslut, the beauty brand on a mission to make a difference. The brand describes itself as "a middle finger to the current sociopolitical landscape and practices found in the cosmetics industry." Basically, they're dedicated to making meaningful progress when it comes to situations like these — oh, and fab liquid lipsticks.
After the overwhelming amount of sexual assault accusations in Hollywood, the brand made waves with their "F*ck Hollywood" Lipstick ($19.95, lipslut.com), a red lippie that donated 50 percent of earnings to anti-sexual assault associations. This time around, they're donating proceeds toward organizations that protect and defend immigrants, especially children, targeted by Trump's administration, via their F*ck Trump lipstick ($19.95, lipslut.com).
Major bonus points awarded for the swatch photo featuring a middle finger.
Not only will picking up this product allow you to do your part in donating to help immigrant families, but Lipslut has made the process even more inclusive by allowing the buyers to select the specific charity where the earnings will be donated. With each purchase comes the opportunity to vote for your desired charity, and while the brand normally donates 50 percent of the proceeds, they'll be donating 100 percent of earnings from F*ck Trump from now through July 19. This means there's never been a better time for you to pick up a new lippie. Charity options currently include Al Otro Lado, Las Americas Immigrant Advocacy Center, Kids in Need of Defense, Refugee and Immigrant Center for Education and Legal Services (RAICES), and the Young Center for Immigrant Children's Rights.
As an added bonus, the liquid lipstick itself is the perfect mid-tone nude pink, and like all of Lipslut's products, it's also vegan- and cruelty-free. Formulated to be long-wearing, moisturizing, and matte, it's the perfect shade to swipe on before heading to a protest or calling your local government officials.
You shouldn't have to get something in return for doing your part in the fight against unfair and inhumane immigration policies, but Lipslut's approach to raising awareness and getting more people to donate is totally genius. Get your hands on your own F*ck Trump Lipstick soon, because I'm about to attempt to buy them out. Sorry not sorry!