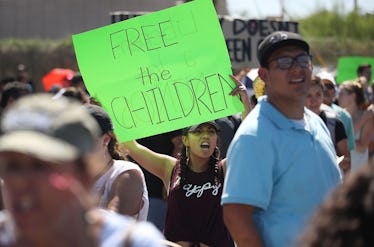 Here's How You Can Help Migrant Families Being Separated At The Border
Joe Raedle/Getty Images News/Getty Images
In April, the Department of Justice announced a new "zero tolerance" policy on immigration, one that has since seen the government pursue prosecution of every adult illegally crossing the country's southern boarder. Those prosecutions have led to thousands of children being separated from their parents and held in government facilities — many without the knowledge of each other's whereabouts — while the parents' status is adjudicated. The stories of those children, and the images of the conditions of the facilities where they're being held, have inspired people to figure out how to help families being separated at the border.
It's clear why, too.
The reports about of individual cases of family seperation at the border only seem to be getting worse. On Wednesday, June 20, Mexico's foreign minister said that a 10-year-old girl with down syndrome was among the thousands of children who have been separated from their families.
In response to that particular case, one of President Donald Trump's most notable allies, former campaign head Corey Lewandowski, resorted to mockery.
A day before, Texas Rep. Joaquin Castro tweeted about his experience visiting minors who have been detained along the border, saying, "The youngest child (boy) I've seen here so far who was separated from his family is 8 months old and has been here over a month, according to administrators."
There are ways to respond to these stories, though. Below are five of them.