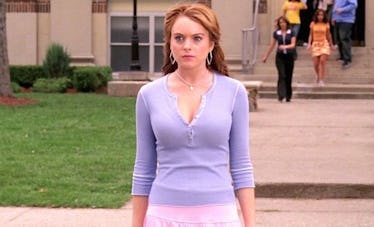 Lindsay Lohan's 'Mean Girls' Day Instagram Is The Most Fetch Thing You'll See Today
Paramount
"It's October 3rd." That iconic quote from the 2004 comedy classic Mean Girls has turned what could be just another humdrum date in our calendars into a day worth celebrating. Yes — the third day in October will forever be known as Mean Girls day, and 2018's installment just happens to fall on a Wednesday. You all know what that means... "On Wednesdays we wear pink." Don't you just love it when stuff like that happens? And at least one of the stars of the movie is commemorating the holiday. Lindsay Lohan's Mean Girls day Instagram proves she didn't forget the extra special date associated with one of her most beloved films.
Lindsay took to social media on (duh) Oct. 3, to recreate the memorable Mean Girls scene where her character Cady Heron recounts how crush Aaron Samuels asked her what day it was in math class. It appears she enlisted her brother Dakota to help reenact the iconic moment.
"It's October 3rd," Lindsay says to the camera through red cat-eye glasses in the brief video. Cady and Aaron definitely weren't wearing flower crowns in the original film, although it's 2018 now — what do you expect? Fetch may not have happened, but filters sure did.
Lindsay isn't the only Mean Girls star who decided to mark this momentous occasion. Jonathan Bennett, the actor behind Aaron Samuels, appeared in a video for E! News reminding us what day it is. He also has a message for his former co-star, Lindsay (aka, the "Mykonos goddess"):
"Linds, 14 years ago today, I asked you what day it was," he says. "Now, you could have checked my phone like a normal person. You could have even said, 'hey, I don't know. I think it's October 2nd.' But you didn't. You said, 'It's October 3rd.' I know you're far away and you have a lot going on right now. I mean, we've seen the video. You're not totally off the grid. But, just in case, I wanted to reach out and personally make sure that you were aware of this significant day and how much I miss you."
The "video" Jonathan Bennett is referring to is that clip of Lohan dancing in Greece that went viral in early September, which even spawned a #DoTheLilo challenge where fans attempted to mimic the actress and club owner's wild moves. As you may already know, Lindsay also made headlines this past week after posting live video on her Instagram account that appeared to show her making child trafficking allegations against a family in Russia. Despite the highly publicized incident, it looks like she remembered Mean Girls day anyway.
Jonathan Bennett's E! clip isn't the only way the actor is celebrating Mean Girls day. He just released a cookbook inspired by the film, aptly titled "The Burn Cookbook: An Unofficial Unauthorized Cookbook for Mean Girls Fans." Recipes include You Go, Glenn (Hot) Cocoa, Gretchen's Wieners, and Fetch-uccine Alfredo.
I don't know about you, but I'm just about ready to get decked out in my fave pink sweatsuit and make a batch of Regulation Hottie Toddies. It's October 3rd, people.