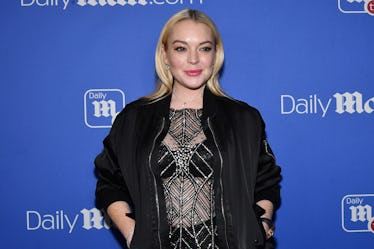 Lindsay Lohan Was Apparently Attacked After Accusing A Family Of Child Trafficking & I Can't
Slaven Vlasic/Getty Images Entertainment/Getty Images
Just when you thought Lindsay Lohan had reached her peak of bizarre moments, she pulls a fast one on you and shakes up the world with yet another wild antic. This time, Lindsay Lohan made child trafficking allegations against a random family while in Russia, resulting in her apparently getting knocked down by an unidentified family member. Unfortunately for her, the entire exchange was captured on video and it's practically breaking the internet. Elite Daily reached out to representatives of Lohan's for further comment and clarification of the moment, but did not receive a reply by the time of the publication.
According to TMZ, the incident went down on Friday, Sept. 28 in Moscow, Russia. Lohan had been streaming through Instagram Live when she reportedly came across a homeless family sleeping outside, who she identified as Syrian refugees, without any apparent evidence. Elite Daily reached out to Lohan's representation for further comment on who the family was, but did not immediately receive a reply.
According to People, the actress stepped out of a vehicle and approached the family — two boys and their parents — and extended an invite for the children to come with her to watch movies "on a television or a computer." However, when they didn't oblige to her request, she started to become increasingly aggressive, switching back and forth between an English accent (a really foreign accent for a New York native, at that) and speaking Arabic, further encouraging the family to release the kids to her. It's unclear if the family understood what Lohan was saying to them, but judging by their perplexed facial expressions, it might be safe to assume they didn't.
At that point, they (rightfully) picked up their things to leave, but Lohan started to follow them, urging them to get into her car. When the family continued to ignore her and kept walking, Lohan dropped the bombshell: "They're trafficking children." She added, "I won't leave until I take you. Now I know who you are. Don't f*ck with me."
Then things took a turn for the worse. As Lohan reached out for one of the boys, telling him to grab her hand, the woman went into full Mama Bear mode. She let out a shout and appeared to strike Lohan, apparently knocking her down. Elite Daily reached out to Lohan's representation for clarification on the reported incident, but did not hear back at the time of publication. The tearful movie star then turned the camera around on herself while grabbing at the side of her face, saying, "You guys, I'm so scared." Shortly after, the video cuts.
LMAO, girl what are you doing? This was a horrible idea, from beginning to end.
Some Twitter users have similar reactions:
"Lindsay Lohan really just tried to kidnap two children on instagram live oh my GOD," one person wrote.
"Wow Lindsay Lohan is gonna be PISSED when she finds out what Jamie Lee Curtis did in her body this week," another person mused, referencing their 2003 movie Freaky Friday.
On the bright side, Lohan has since deleted the video. Though she has yet to address the incident publicly — and everyone is still confused AF about what is actually going on — that's at least somewhat of an acknowledgement of how weird this moment was.