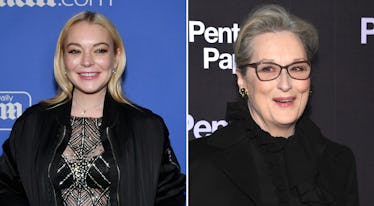 Lindsay Lohan Pitched Herself For 'The Little Mermaid' Again, This Time With Meryl Streep
Slaven Vlasic/Getty Images, Pascal Le Segretain/Getty Images
Disney is all-in on live-action remakes and Lindsay Lohan is all-in on starring in another movie, so it makes some sort of sense that Lohan is publicly pitching herself to Disney to star in a remake of The Little Mermaid... and she certainly has a big name in mind to join her under the sea. In Lindsay Lohan's new Instagram about The Little Mermaid, she pitches none other than Meryl Streep to costar in the movie with her as Ursula. I mean, I would definitely watch that, but I'm not holding my breath that it is ever actually going to happen.
This is actually the second time that Lindsay Lohan has used her Instagram to pitch herself as the star of a live-action The Little Mermaid remake to Disney. In February of 2017, Lohan posted a side-by-side photo of herself and Ariel, writing that she would sing again if Disney cast her in a live-action version of The Little Mermaid. She also wrote that she wanted Beauty and the Beast director Bill Condon to direct the unannounced movie, along with her sister Aliana Lohan singing the theme song and fitness guru Kristen Graham in the role of Ursula.
Nothing came of Lindsay Lohan's first The Little Mermaid post, but that is not stopping her from trying again. Only this time, she has a new Ursula in mind. On Monday night, Lohan posted that her dream role was to costar with Streep in The Little Mermaid, and she tagged Disney in the caption.
Lindsay Lohan is currently in the process of stepping back into the acting world after taking a break from showbiz for the last several years. Her most recent film role was leading the limited-release thriller The Canyons in 2013. A while after she stopped acting, Lohan moved out of the U.S. to Dubai, and refocused her career instead on opening nightclubs around Greece.
Now, Lohan is returning to show business with a guest spot on the Rupert Grint-led U.K. sitcom Sick Note and her own MTV reality show centered on her Mykonos club, Lohan Beach Club. But fans might have to wait a bit to see her in another major film role... unless Disney actually bites on Lohan's The Little Mermaid pitch this time.
This is not the first time that Lindsay Lohan has used social media to pitch movie roles for herself. Over the last couple of years, Lohan has tweeted about wanting to play Batgirl in a DC Comics movie currently in development, tweeted Disney about doing sequels to her films Freaky Friday and Herbie: Fully Loaded, and reached out to Emma Stone to costar in Mean Girls 2 with her. Unfortunately for Lohan, none of those social media pitches has panned out for her. We also recently learned that Lohan is not going to be in Life-Size 2, the one movie she starred in that actually is getting a sequel made.
Well, maybe this time things will work out for Lindsay? Than again, since Meryl Streep doesn't have social media, Instagram was probably not the most effective way to reach out to her. At least Lohan has Lohan Beach Club coming to MTV next year to focus on.