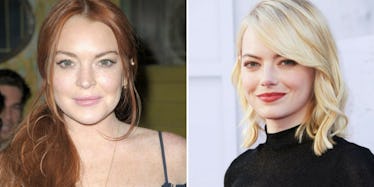 Lindsay Lohan Posts Bizarre Instagram Asking Emma Stone To Be In 'Mean Girls 2'
Getty
OK guys, we need to talk about an Instagram post that I've been confounded by since Lindsay Lohan posted it on Tuesday night.
Now, all of LiLo's faithful followers know she can get pretty messy on the 'Gram, and loves to use her account to low-key (actually, high-key) beg for new movie deals. In recent months, she's posted about how she wants to star in a The Little Mermaid movie, asked Disney for Freaky Friday and Herbie Fully Loaded sequels, and said she'll write a Mean Girls sequel.
Do these posts come off as a little desperate? Sure, but honestly, I live for them, and it's also pretty refreshing to see these movie pitches publicly instead of behind closed doors. And it's reassuring to know Lohan is actively trying to get back into the acting game.
But her most recent movie pitch post is definitely the wildest one yet. In a since-deleted Instagram post, Lohan asked Emma Stone to co-star in Mean Girls 2 with her, adding she thinks the two actresses should be friends. Check out the post below:
Now, there's a lot to grapple with here. First of all, there actually already is a Mean Girls 2, but pretty much everyone has erased that mess from their minds, so I think we're all cool with LiLo steamrolling over that disaster.
And I don't know where to begin in deciphering what a "birthday #trump tweet" could possibly even mean, or why LiLo chose to use that pic with Perez Hilton text scrawled over her face in her little collage.
But what's really interesting is Lindsay Lohan reaching out to Emma Stone specifically. The two actresses have been compared to each other for years thanks to their husky voices and red hair (though Stone's is dyed). Publications like The Daily Beast have gone so far as to claim Stone has the career that Lohan should have had if she was not sidelined at the height of her success by public scandals.
So like... who would Emma Stone even play in a possible Mean Girls sequel? Cady Heron's long-lost twin sister?
Unfortunately, I really don't think we're ever going to find out. Emma Stone may have gotten her start in high school comedies like Superbad and Easy A, but now she's a bona fide Oscar winner taking on prestige projects like Birdman and La La Land.
Sorry, Linds, but please don't give up on trying to get Mean Girls 2 made!