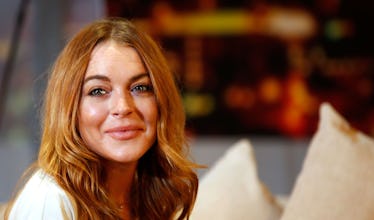 Lindsay Lohan's Latest #MeToo Comment Is Very Different From Her Recent Criticisms
Tim P. Whitby/Getty Images Entertainment/Getty Images
Is it just me, or does it seem like Lindsay Lohan is in the news more often than in recent memory? Don't get me wrong: I sometimes yearn for the days when billboards were adorned with the opening dates of Lohan's big-screen hits in the mid-2000s. Even so, the former teenage movie queen is getting attention for something a little more serious these days, which is her recent criticism of the #MeToo movement. A few days after her comments were mostly perceived as negative, Lindsay Lohan apologized for her #MeToo comment by praising the "heroic voices" of the cause.
If you're unfamiliar with the discussion surrounding Lohan's original comment about the #MeToo movement, it came about during a recent interview with British publication The Times. Speaking to her comment — in which she said of women coming forward with sexual misconduct allegations, "...it makes them look weak..." — Lohan issued an exclusive statement to People on Sunday, Aug. 12.
"I would like to unreservedly apologize for any hurt and distress caused by a quote in a recent interview with The Times," the Lohan Beach House owner began. Further clarifying her comment to the publication, Lohan continued,
The quote solely related to my hope that a handful of false testimonies out of a tsunami of heroic voices do not serve to dilute the importance of the #MeToo movement, and all of us who champion it. However, I have since learned how statements like mine are seen as hurtful, which was never my intent. I'm sorry for any pain I may have caused. I feel very strongly about the #MeToo movement and have the utmost respect and admiration for the women brave enough to come forward and speak out about their experiences. Their testimony has served to protect those who can't speak, and give strength to those who have struggled to have their voices heard.
To put her apology into context, you can read her comments from her interview with The Times. Per People, Lohan first shared that she didn't "really have anything to say" about the #MeToo movement.
"I can't speak on something I don't live, right? Look, I am very supportive of women. Everyone goes through their own experiences in their own ways," she added. It was when she steered the conversation toward "attention-seekers" that her words were a bit more harsh. Lohan discussed her view of how reporting sexual misconduct should work. She explained,
If it happens at that moment, you discuss it at that moment. You make it a real thing by making it a police report. I'm going to really hate myself for saying this, but I think by women speaking against these things, it makes them look weak when they are very strong women. You have these girls who come out, who don't even know who they are, who do it for the attention. That is taking away from the fact that it happened.
After reading that, it's good that Lohan felt the need to clear up her comments, because her feelings on the "false testimonies" definitely got muddled with her thoughts on legitimate survivors coming forward. Her original statement reads as very critical of both legitimate accusations and false ones. To be clear, the incidences of false reporting are as little as 2 percent of all reported sexual violence cases, per The Independent.
In her Sunday apology, Lohan seemed more clear about the fact that she is supportive of the movement. "I feel very strongly about the #MeToo movement and have the utmost respect and admiration for the women brave enough to come forward and speak out about their experiences," Lohan shared in support of the cause.
The #MeToo movement, which is a hashtag used to share stories of sexual assault, has gained a groundswell of support since it got momentum near the end of 2017 ("Me Too" was originally created in 2006 by Tarana Burke). By the looks of Lohan's latest thoughts on #MeToo, it seems as though she has come around to join the supportive contingent of the movement, too.