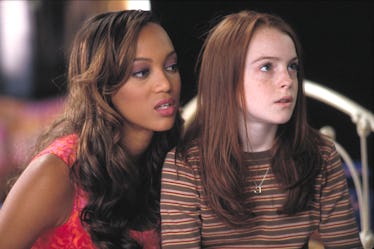 Lindsay Lohan Won't Be In 'Life Size 2' & But There's Still Good News For Her Fans
Walt Disney Television
Tyra Banks returns to the small screen this holiday season in Life Size 2, but despite Banks' insistence that her original co-star Lindsay Lohan would join her for the special movie, it looks like Banks is now flying solo. Although I was ready for Lohan's prodigal return to a Disney-owned story, Lindsay Lohan won't be in Life-Size 2, but fans may still see her on TV in a different way soon.
Banks, currently filming Life-Size 2 with co-star Francia Raisa for Freeform, was a little guilty of counting her chickens before they hatched when it came to announcing Lohan's involvement in the 2000 film's sequel. For more than a year, she was vocal about pursuing Lohan "in her DMs" and trying to convince her to reprise her Life-Size role as tomboy Casey, who brought her Eve doll to life amidst grieving for her mother and becoming a teenager. In April 2018, Banks seemingly confirmed on Steve Harvey's talk show that Lohan would join the cast. Banks, a Life-Size 2 executive producer and the actress behind the live doll Eve, revealed during the appearance that while in talks with the screenwriter, she was pushing for Lohan to have several scenes in the project rather than just a cameo.
Well, I hope that the script didn't undergo too many edits to squeeze Casey in, because now isn't the time for Lohan to shine and "be a star" in the world of Eve. A rep for Freeform told Entertainment Tonight, "Unfortunately she will not be in Life-Size 2 due to her production schedule for her reality show."
Yep, in case you haven't kept up with Lohan recently, she's living her best life running a beach resort property, Lohan Beach House, in Greece. A MTV reality show focusing on Lohan's staff is currently in pre-production, and Bunim/Murray Productions will reportedly film for about five weeks at the resort. Lohan is expected to appear on camera at the Mykonos resort, but she definitely has busy plans beyond the reality TV project. She may soon open another resort on Rhodes, and she's been living in Dubai. Speaking to the New York Times recently, Lohan said about her current lifestyle:
There's a business side to my life now, but I'm not in America, so no one knows about it, which is nice for me. Because I get to actually focus on the result of things.
This summer marks 20 years since Lohan's first movie, The Parent Trap, was released, so after being in the public eye for two decades, Lohan now seems totally content with her more low-key life. Plus, seeing as how chatty Banks was about her possible return, it sounds like Lohan still wanted to be in Life-Size 2, right? Lohan having to turn down that opportunity because she's thriving somewhere else is great for any longtime fans who've watched her distance herself from her peak acting years in the early 2000s. Do I sense the beginning of a Lohan-naissance?
Meanwhile, Banks hasn't commented on Lohan's official absence yet, but she has continued sharing behind-the-scenes pictures of work on Life-Size 2.
No official premiere date of the film has been announced yet, but a Life-Size 2 press release revealed the sequel's plot. Raisa, a longtime ABC Family / Freeform actor, plays Grace Manning, who takes over as CEO of her mother's toy company. The company is best known for manufacturing the Eve doll, but Grace's quarter-life crisis begins to take its toll on the company's stock. Does Eve come to life just in time to save the day with some Christmas magic? Fingers crossed for Eve having a locket with Casey's picture in it if Lohan can't stop by to help out the ladies this time around.
Life-Size 2 will premiere on Freeform this December.