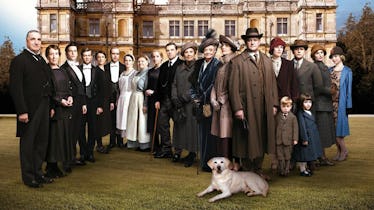 This Character Definitely Won't Return For The 'Downton Abbey' Movie & Fans Are Crushed
PBS / ITV
Anglophiles everywhere celebrated when news broke that the Downton Abbey movie is officially a go, and reports confirming that the entire cast would return for the project made the announcement even better. However, just a few days later, fans have already learned their lesson about not jumping to conclusions. Lily James won't be in the Downton Abbey movie, and fans of her character Lady Rose are seriously disappointed.
For Downton Abbey fans who are partial to its first three (and arguably best) seasons, James's Rose probably isn't a favorite character, but she was still a series mainstay for a decent majority of the show. First appearing in Season 3, Rose was introduced as a Crawley cousin who first visited Downton Abbey when she stayed with Violet and embarked on one of several scandalous love affairs. Eventually, she moved to the Abbey permanently, causing more low-key mischief before falling in love with and marrying the Jewish heir Atticus Aldridge. The two moved to New York, had a baby, and returned to Downton for the New Year's celebrations in the series finale.
For James, who soon appears in her biggest movie project yet in Mamma Mia! Here We Go Again, Rose's life in New York is apparently enough to keep her away from the Abbey in the upcoming film. In an interview with PEOPLE, James said:
I'm sadly not [returning], but I'm so excited for it — I'm going to be front row... My character Rose moved off to New York, so it would be farfetched to bring her back. I would have loved to have come back for a scene, but for a movie it can't be like a Christmas special and it needs to be a focused storyline. There was no space for Rose.
While other main cast members from the series still seem onboard for the movie, hardcore fans of James aren't taking this news well. She may be a mega movie star now, but we all love to see our favorite actors acknowledge the work that put them on the map, right? For some moviegoers, Lily James will always be that fresh-faced little cousin excitedly running through the Abbey halls.
Anyone fearing that harsh feelings between James and the rest of the Downton Abbey cast have contributed to this absence can rest easy. James still keeps in touch with some of her former co-stars, as she told PEOPLE:
I spoke to Laura [Carmichael] not long ago and was texting Michelle [Dockery] about Love Island and [the movie is] going to be really exciting. And the whole gang is coming back.
Well, everyone in that gang but James, apparently.
James also confirmed that it wasn't a matter of scheduling that left Rose out of the plans for the film, which makes me wonder if any other slightly minor characters will face the same fate as her. Will we be granted an onscreen update on Molesley and Baxter's sweet romance or just be told that they left service and jetted off to Paris together? Does Cora's old maid O'Brien return for vengeance or will the Crawleys just casually drop the news that O'Brien has met her maker? Is Edith still the queen of unlucky endings? I still have so many questions about this movie. Series creator and writer Julian Fellowes returns to write its script, so here's hoping he got heartbreaking twists out of his system during the show's original run. I don't think my heart could handle it otherwise.
The Downton Abbey movie will be in theaters on an unconfirmed date after starting production later this summer.