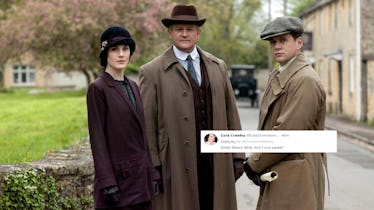 A 'Downton Abbey' Movie Is Officially Happening & Fans On Twitter Are Losing It
PBS / ITV
Hold onto your teacups, lords and ladies, because we're going back to Downton! After years of series creator Julian Fellowes promising that a Downton Abbey movie would happen, he's finally proven that his word can be trusted. As the Dowager Countess would say, we must never be defeatist, because the Downton Abbey movie is officially happening, and the original cast will start production on the film this summer. I'm definitely surprised at how quickly this is happening, but these tweets about the Downton Abbey movie show that fans are just as excited to delve back into the world of 1900s Downton.
In addition to the return of the entire cast (well, presumingly just the actors whose characters were still alive in the series finale), Fellowes is writing the film's script and executive producing alongside Gareth Neame, Liz Trubridge, and Nigel Marchant. Brian Percival, who directed the Downton Abbey pilot that hooked millions of viewers, will return to direct the movie. So, yes, the gang is truly back together for this project, which Fellowes confirmed he was writing back in 2017. In a statement, Neame said:
When the television series drew to a close it was our dream to bring the millions of global fans a movie and now, after getting many stars aligned, we are shortly to go into production. Julian's script charms, thrills and entertains and in Brian Percival's hands we aim to deliver everything that one would hope for as Downton comes to the big screen.
If the official statement just makes this sound too good to be true, the news is certainly legit. After all, the Downton Abbey Twitter account released a photo of a footman (Thomas Barrow still scheming in the Downton kitchens?) with a "cordial" invitation to return to the famed Yorkshire home via the big screen.
Michelle Dockery, who captivated viewers as the occasionally icy Lady Mary, also posted an Instagram photo of herself in costume during the original series. As she phrased it in her caption, "The secret's out," and although she literally just got nominated for an Emmy, Dockery seems pretty pumped to return to her TV roots.
The majority of the Downton Abbey cast members who are on Twitter have yet to share the exciting news online, but two of the show's mainstays have already posted about the movie. Joanne Froggatt, who spent six years with Anna Bates repeatedly being dealt horrible obstacles, tweeted a photo of herself with co-stars Dockery and Maggie Smith to confirm the news, while Hugh Bonneville, aka Lord Grantham himself, shared the invitation photo with a promise that the film is due in 2019.
While a release date for the movie hasn't been confirmed yet, 2019 does seem like a reasonable premiere time if filming starts as soon, as these reports suggest. Maybe we can expect a Christmas 2019 visit to Downton?
Tweets from fans prove that viewers are overjoyed about the news, and I definitely can't complain about the multiple Downton Abbey GIFs dominating my Twitter feed right now.
The cast and crew reuniting for a movie was a point of discussion before the series even concluded in the U.K. in 2015 after six successful seasons. In the Downton Abbey series finale, the Crawley family and their servants rang in the year 1926, but not before handling their fair share of change. Beloved butler Carson retired, Mary had settled into life with her second husband Henry, and Thomas left the Crawleys for a new job. Forever scorned sister Edith even had her own happy ending when she finally made it down the altar and got married, while Anna and Bates reached the upstairs level of Downton for the birth of their son.
With so many loose ends tied in the finale, what could this movie possibly cover? Will there be a major time jump? Is the Dowager Countess still going strong? How is the Abbey coping financially? Did Matthew fake his own death all along? So many potential plotlines. Time to start stalking cast members' social media for more clues of what we can expect in the Downton Abbey movie!