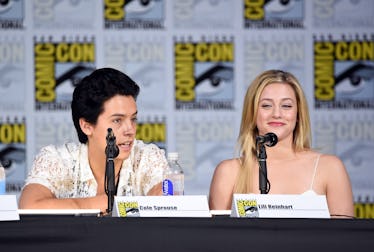 Lili Reinhart & Cole Sprouse's Blood Moon Watch Party Was Adorable AF
Mike Coppola/Getty Images Entertainment/Getty Images
Although I'm one of the very few people who doesn't diligently keep up with The CW's hit TV series, Riverdale, even I am well aware of the ongoing chemistry between Lili Reinhart and Cole Sprouse on (and potentially off) the screen. While the two celebs are rumored to be dating in real life, Lili Reinhart called Cole Sprouse her "best bud" on IG, and it has fans asking so many questions about their current relationship status. I know that I'm pretty curious about it.
On the night of Friday, July 27, you probably tried to watch the blood moon lunar eclipse. Apparently, so did Reinhart and Sprouse. Together. Alone. (!!!) I guess I'm not really that surprised, but OMG, what a backdrop. You would probably expect that powerful lunar activity — like a blood moon — would set the scene for a gorgeous love story, but Reinhart and Sprouse continued to keep fans guessing about their relationship as they took in the eclipse together.
To start off Reinhart's IG Story, she posted a selfie of her with Sprouse that was captioned, "If the world really is gonna end tonight then I'm happy it's with my best bud!!" Um, say what? Is Cole as surprised as I am right now? Were they about to kiss? I have so many questions.
In the next photo, it looks like Reinhart is trying to get Sprouse's attention, while he's clearly preoccupied. Or maybe he's secretly feeling a little salty about her last friend-zoning comment. Anyway, the caption read, "Trying to squeeze in some great conversation on our last night on this planet — am I right Cole? Lolol. #bffs." Honestly, they're probably just goofing around, and I suppose that it's pretty darn cute, but I am still rooting for them to eventually become an actual couple.
Reinhart's antics continue, and a few photos later, Sprouse is pretending to finally be fed up with Reinhart's tomfoolery (LOL). She captioned the photo, "Asked him to tell me all the things he loves about me. He's been silent for 30 minutes. Awww he must be thinking really deeply."
The two continued to goof around. Reinhart continued trying to get Sprouse's attention, and he jokingly wasn't having any of it. She tried her best to get him to go along with it, but it didn't really happen. Oh well.
The Story ends with Reinhart all by herself. According to her caption, Sprouse was no longer in the mood for her jokes and antics. She closed out her Story alluding to the fact that he kicked her out because he secretly loves her, and TBH, I'm not totally convinced she was kidding. The caption read, "He kicked me out of his trailer. Probs cuz he doesn't want me to see him cry over the fact that the world is ending and he will miss me so much." Seriously, she might not be kidding.
Even though the IG Story of the two Riverdale stars doesn't confirm their rumored romance, it looks like Reinhart and Sprouse are, at the very least, the most adorable BFFs.