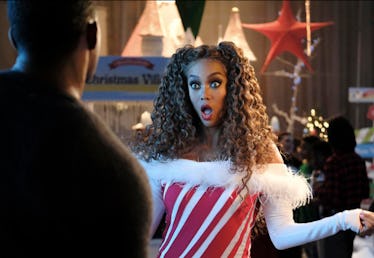 The 'Life-Size 2' Premiere Date Was Finally Revealed, So Get Ready To Shine Bright
Guy D'Alema, Freeform
This holiday season just got much brighter. On Oct. 12, Freeform shared photos from 'Life-Size 2' and announced the sequel will premiere during its "25 Days Of Christmas" schedule on Sunday, Dec. 2. Although it's been 18 years since the original movie aired, these photos of Tyra Banks as Eve prove not much has changed.
The original movie, which stars Lindsay Lohan and Banks, tells the heartwarming story of Casey Stuart (Lohan), a tomboy who accidentally brought her Eve doll (Banks) to life in an attempt to bring her mother back from the dead. The now-classic story ends with a message about loving yourself and finding your own inner star. For over close to two decades, the "Be A Star" anthem has earned a permanent spot in millennials' music libraries. But as the sequel's new tagline suggests, the second installment will "shine brighter" and "shine farther."
In Life-Size 2, Eve returns back from Sunnyvale to help the Marathon Toys CEO, Grace Manning (Grown-ish's Francia Raisa), get through her quarter-life crisis. Grace's mother created Marathon Toys and the Eve doll, so Grace has intimidating shoes to fill. But as a result of Grace's 20something partying ways, the company's stock begins to plummet.
Enter Eve.
Banks explained the importance of Raisa's new leading role to EW :
The role needed somebody who could cry at the drop of a hat and make people laugh. She had that ability. There's something about her eyes that can be very soulful. She can tell a story with just her eyes, which is really beautiful. When we were casting the movie we were non-race specific, we just wanted the best actors in all of the parts, and once we cast Francia we were excited that we had to tweak the script. We were excited that she represented this heiress to a publicly traded company her Latina mom started on her own. That's a good message, particularly in today's climate in our country.
Check out the first photos of Life-Size 2, starring Banks and Raisa, below:
Although it sounds like Grace's story will be just as heartwarming as Casey's, fans can't help but wonder if Lohan will appear in the sequel.
In an interview with The Hollywood Reporter, Banks updated fans on Lohan's status with the film. "She [Lohan] has this new TV show on MTV about this club so she couldn't make it, which was sad," Banks said, referencing Lohan's MTV reality show, Lohan Beach Club. But there's a glimmer of hope for Eve's "special friend." Banks continued, "[Lohan] will be in the movie in some kind of way. We'll see where that ends up."
Luckily for those who need a refresher on the first movie, Freeform's included the original Life-Size in its "Kickoff To Christmas" lineup, which airs from Nov. 1 to Nov. 30.
There's a lot to look forward to this holiday season, and it's clear that your Christmas tree won't be the only thing that shines bright this year.