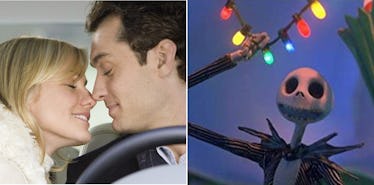 Freeform's "Kickoff To Christmas" Lineup Is Here To Get You In The Holiday Spirit
Universal/Disney
Your calendar isn't deceiving you, folks — it's not even Halloween yet. But it's never too early to get you in the holiday spirit when your loyal viewers are counting on you. Freeform's "Kickoff to Christmas" lineup has officially been revealed and it's pretty much a non-stop celebration of the season's entertainment classics. From Frozen to The Holiday to Christmas With the Kranks and The Santa Clause, the network is serving up movie faves throughout the month of November.
December might be when the holiday programming really heats up (or cools down, because winter), but Freeform is clearly open to getting.a headstart. In addition to a slew of Christmas-centric entertainment, their "Kickoff" roster of titles includes notalgic '90s films like Happy Gilmore, Titanic, Jumanji, Little Giants, and Mrs. Doubtfire. Way to appeal to my exact sensibilities, programming execs. Not an hour goes by next month without something enticing to watch available on TV. And this is all happening before December 1 when "25 Days of Christmas" commences. What a world we live in!
Take a good look at the full upcoming slate below and plan accordingly, friends. Tip: Mulan and Ratatouille both air on Thanksgiving if you need a break from your feasting.
Thursday, Nov. 1
5 p.m. Christmas with the Kranks
7:10 p.m. Tim Burton's The Nightmare Before Christmas
8:50 p.m. Disney-Pixar's Inside Out
Friday, Nov. 2
12 a.m. Snowglobe
2:30 p.m. Christmas with the Kranks
4:40 p.m. Tim Burton's The Nightmare Before Christmas
6:20 p.m. Disney-Pixar's Inside Out
8:30 p.m. Disney's Frozen
Saturday, Nov. 3
12 a.m. 12 Dates of Christmas
7 a.m. Titanic
11:30 a.m. 12 Dates of Christmas
1:35 p.m. The Holiday
4:50 p.m. Disney's Frozen
7:20 p.m. Pitch Perfect
10 p.m. Life-Size
Sunday, Nov. 4
12 a.m. Snow
7 a.m. Sixteen Candles
9:05 a.m. Snow
11:10 a.m.The Holiday
2:25 p.m. Life-Size
4:30 p.m. Pitch Perfect
7:10 p.m. Just Go With It
9:50 p.m. Maleficent
11:55 p.m. Sixteen Candles
Monday, Nov. 5
4 p.m. Just Go With It
6:30 p.m. Maleficent
8:30 p.m. Jumanji
Tuesday, Nov. 6
12 a.m. Billy Madison
3:30 p.m. Billy Madison
5:30 p.m. Jumanji
8 p.m. Mrs. Doubtfire
Wednesday, Nov. 7
12 a.m. Angels Sing
3:30 p.m. Angels Sing
5:30 p.m. Mrs. Doubtfire
8:30 p.m. Sweet Home Alabama
12 a.m. The Family Stone
Thursday, Nov. 8
3:30 p.m. The Family Stone
6 p.m. Sweet Home Alabama
8:30 p.m. Love the Coopers
Friday, Nov. 9
12 a.m. Babe
1 p.m. Babe
3:05 p.m. Alvin and the Chipmunks
5:10 p.m. Alvin and the Chipmunks: The Squeakquel
7:15 p.m. Storks
9:20 p.m. Tim Burton's The Nightmare Before Christmas
Saturday, Nov. 10
12 a.m. Beethoven
7 a.m. Alvin and the Chipmunks
9:10 a.m. Alvin and the Chipmunks: The Squeakquel
11:15 a.m. Alvin and the Chipmunks: Chipwrecked
1:20 p.m. Richie Rich's Christmas Wish
3:25 p.m. Storks
5:30 p.m. Disney's Meet the Robinsons
7:35 p.m.Tim Burton's The Nightmare Before Christmas
9:15 p.m. Dr. Seuss' How the Grinch Stole Christmas
11:55 p.m. Call Me Claus
Sunday, Nov. 11
7 a.m. Decorating Disney: Holiday Magic
8 a.m. Alvin and the Chipmunks: Chipwrecked
10:10 a.m. Richie Rich's Christmas Wish
12:20 p.m. Call Me Claus
2:25 p.m. Disney's Meet the Robinsons
4:30 p.m. Deck the Halls
6:35 p.m. Dr. Seuss' How the Grinch Stole Christmas
9:15 p.m. Disney-Pixar's The Incredibles
11:55 p.m. Norm of the North
Monday, Nov. 12
4 p.m. Norm of the North
6:10 p.m. Disney-Pixar's The Incredibles
8:50 p.m. Ice Age: Continental Drift
Tuesday, Nov. 13
12 a.m. Dennis the Menace
4:30 p.m. Dennis the Menace
6:40 p.m. Ice Age: Continental Drift
8:50 p.m. Despicable Me
Wednesday, Nov. 14
12 a.m. 'll Be Home for Christmas
4:30 p.m. I'll Be Home for Christmas
6:40 p.m. Despicable Me
8:50 p.m. Disney-Pixar's The Good Dinosaur
Thursday, Nov. 15
12 a.m. Daddy Day Care
4 p.m. Disney-Pixar's The Good Dinosaur
6 p.m. Deck the Halls
8 p.m. Mrs. Doubtfire
12:00 a.m. A Cinderella Story
Friday, Nov. 16
4 p.m. Deck the Halls
6 p.m. Mrs. Doubtfire
9 p.m. Disney-Pixar's Toy Story
Saturday, Nov. 17
12 a.m. Boxtrolls
7 a.m. Race for Your Life Charlie Brown
8:35 a.m. Bon Voyage Charlie Brown
10:10 a.m. Little Giants
12:45 p.m. Christmas with the Kranks
2:50 p.m. Disney-Pixar's Toy Story
4:50 p.m. Disney-Pixar's Toy Story 2
6:55 p.m. Disney-Pixar's Toy Story 3
9:25 p.m. Disney's Wreck-It Ralph
11:30 p.m. Jumanji
Sunday, Nov. 18
7 a.m. Little Giants
9:35 a.m. Christmas with the Kranks
11:40 a.m. Jumanji
2:15 p.m. Disney-Pixar's Toy Story 2
4:20 p.m. Disney-Pixar's Toy Story 3
6:50 p.m. Disney's Wreck-It Ralph
8:55 p.m. Disney's The Lion King
11 p.m. Disney's The Lion King II: Simba's Pride
Monday, Nov. 19
1 a.m. Decorating Disney: Holiday Magic
2:30 p.m.Disney's The Lion King II: Simba's Pride
4:30 p.m. Storks
6:30 p.m. Disney's The Lion King
8:30 p.m. Cinderella (Live Action)
Tuesday, Nov. 20
12 a.m. Sixteen Candles
12 p.m. Sixteen Candles
2 p.m. Titanic
6:30 p.m. Cinderella (Live Action)
9 p.m.Disney-Pixar's Brave
Wednesday, Nov. 21
12 a.m. Uncle Buck
11:30 a.m. Uncle Buck
1:30 p.m. Mrs. Doubtfire
4:30 p.m. Disney's Mulan
6:30 p.m. Disney-Pixar's Brave
8:30 p.m. Disney's Zootopia
Thursday, Nov. 22
12 a.m. Happy Gilmore
7:30 a.m. Happy Gilmore
11 a.m. Mrs. Doubtfire
2 p.m. Disney's Mulan
4 p.m. Ice Age: Continental Drift
6 p.m. Disney's Zootopia
8:30 p.m. Disney-Pixar's Ratatouille
Friday, Nov. 23 12 a.m. - The Lego Movie 7:30 a.m. - Santa Paws 2: The Santa Pups
11 a.m. - The Lego Movie
1:30 p.m. - Ice Age: Continental Drift
3:30 p.m. - Jumanji
6 p.m. - Disney-Pixar's Ratatouille
8:30 p.m. - Disney-Pixar's Finding Nemo
Saturday, Nov. 24
12 a.m. Call Me Claus
7 a.m. Bon Voyage Charlie Brown
8:30 a.m. Beethoven's Christmas Adventure
10:30 a.m. Jumanji
1:05 p.m. Disney's Tarzan
3:10 p.m. Despicable Me
5:15 p.m. Disney-Pixar's Finding Nemo
7:45 p.m. The Santa Clause
9:50 p.m. The Santa Clause 3: The Escape Clause
11:55 p.m. Life Size
Sunday, Nov. 25
7 a.m. Yogi Bear
8:35 a.m. Richie Rich's Christmas Wish
10:35 a.m. Disney's Tarzan
12:40 p.m. Despicable Me
2:45 p.m. Life Size
4:50 p.m. The Santa Clause
6:55 p.m. The Santa Clause 3: The Escape Clause
9 p.m. The Truth About Christmas (Freeform Original Film premiere)
11 p.m. Mrs. Doubtfire
Monday, Nov. 26
12 p.m. The Truth About Christmas
2:05 p.m. Mrs. Doubtfire
5:10 p.m. Disney's Meet the Robinsons
7:15 p.m. Tim Burton's The Nightmare Before Christmas
8:55 p.m. Paddington
Tuesday, Nov. 27
12 a.m. Disney's The Hunchback of Notre Dame
1 p.m. Disney's The Hunchback of Notre Dame
3 p.m. Disney's Meet the Robinsons
5:05 p.m. Tim Burton's The Nightmare Before Christmas
6:45 p.m. Paddington
8:50 p.m. Despicable Me
Wednesday, Nov. 28
12 a.m. Eight Crazy Nights
12 p.m. Eight Crazy Nights
2 p.m. Unaccompanied Minors
4:10 p.m. Jumanji
6:40 p.m. Despicable Me
8:50 p.m. Disney's A Christmas Carol
Thursday, Nov. 29
12 a.m. Unaccompanied Minors
1 p.m. Jumanji
3:30 p.m. The Holiday
6:40 p.m. Disney's A Christmas Carol
8:50 p.m. The Santa Clause
Friday, Nov. 30
12 a.m. Jingle All The Way 2
1:30 p.m. The Holiday
4:35 p.m. Christmas with the Kranks
6:40 p.m. The Santa Clause
8:50 p.m. The Santa Clause 3: The Escape Clause
12 a.m. I'll Be Home for Christmas