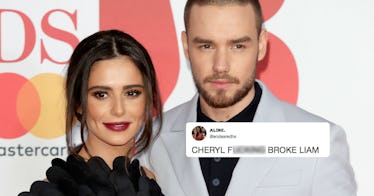 Twitter Is Convinced Liam Payne's New EP Is About His Relationship With Cheryl
John Phillips/Getty Images Entertainment/Getty Images
Liam Payne just dropped his long-awaited solo EP First Time, and it's about time! First Time is Payne's debut body of work as a solo act. He's had an LP in the works pretty much ever since One Direction parted ways in 2016. Fast-forward to today, and because Payne's private life has undergone so many changes over the past 12 months, he decided to take a little more time to work on his music so that his first extended play better reflects his current life situation. As a result, Liam Payne's EP First Time is vastly different than anyone could have anticipated.
The album comes in the wake of Payne's shocking split from his girlfriend of two years and mother to his son Bear, Cheryl, and a rumored new romance with model Cairo Dwek. The two have been spotted out and about recently and it seems like they're getting quite cozy.
Given the changes Payne has undergone in his private life, he took to Twitter to explain the delayed release of his solo LP and why he decided to release an EP instead.
"As you may know, the last few months have seen some big changes for me," he wrote. "I looked at some of the songs on my album which were done a while ago and they felt from another age. I'm determined for my debut album to truly represent me. I'm now back in the studio working hard to finalise the final few new songs on the record — I'm genuinely excited about the music I'm writing and recording and I can't wait for it to be ready for you all."
First Time is streaming on Spotify now and you definitely will not regret giving it a listen at all. There are only four tracks on it, so it won't even take up much of your time (if you don't count how many times you play it on loop, I mean). Give it a listen below!
Obviously, fans are already losing it over their faves' first album. They've taken to Twitter to go OFF about Payne's new tracks.
Some fans think that Payne made the wrong call on the track he chose as his first single from First Time, however. He chose the title track featuring French Montana, "First Time," but fans think he should have chosen his new breakup track, "Slow."
Fans seem to think that this album is a collection of songs describing Payne's rollercoaster relationship with Cheryl, especially "Slow." In the song, Liam hints that his relationship with someone had been in shambles for much longer than he was willing to admit, singing:
Know, that we're broken / Know, this was over months ago, months ago / Got me pretendin' you ain't done with us / It got me runnin' round the obvious / Yeah, baby, why you gotta rush
The message was pretty clear to fans:
Payne and Cheryl met in 2010 when Payne auditioned for X Factor, on which Cheryl was a judge (and his childhood crush). The fact that Payne ended up dating his childhood crush in 2016 seemed like a dream come true, which made the announcement of their split that came on July 1, 2018, exponentially harder to swallow. Payne and Cheryl tweeted a joint statement that read:
Cheryl and I are sad to announce that we are going our separate ways. It's been a tough decision for us to make. We still have so much love for each other as a family. Bear is our world and we ask that you respect his privacy as we navigate our way through this together.
Clearly, Payne and Cheryl's breakup was a lot harder than we even knew for Payne if the emotions weaved into First Time are anything to go by.