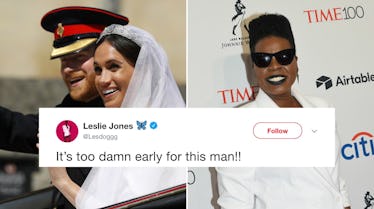 Leslie Jones Live-Tweeted The Entire Royal Wedding & They're All You Need To Read Today
There are two types of people in this world: people who woke up before sunrise to catch every single second of the royal wedding of Meghan Markle and Prince Harry and people who kept snoozing the night away and couldn't care less. Leslie Jones' royal wedding tweets show she falls into the former group, because the 50-year-old comedian basically live-tweeted the entire event from start to finish, and her coverage is honestly the only thing you need to read today.
Even the most chipper of morning people on the east coast probably didn't set their alarms for a crisp 4 a.m. just for the sake of catching every moment of the royal wedding (unless they're just that obsessed with British royals and/or Meghan Markle, in which case, no judgment, y'all). I'm not quite sure if Leslie Jones would consider herself a morning person, but either way, the Saturday Night Live comedian deserves some major props, because not only did she wake up before the crack of dawn to watch this historic event live, she blessed us all by live-tweeting all of her commentary.
Look, I know EVERY major news network is covering Meghan Markle and Prince Harry's wedding, but trust me, all you need to read today are Leslie Jones' tweets about the big day.
Agreed, Leslie. I've been awake for approximately six hours now, and yet it's only 9:47 a.m. ET — SOS.
"LUCY, WHY ARE YOU THERE?! ARE YOU THERE TO SAVE THE QUEEN?" Ugh, Leslie Jones gives me so much life, you guys.
I'm VERY relieved to know I wasn't the only one who low-key thought the cellist was super hot. Like, I may or may not have forgotten who was getting married today while I watched him doing his thing.
So why wasn't Leslie Jones hired to sing a song at the royal wedding? She clearly has the voice of an angel, and she would've taken that already-incredible gospel choir at the wedding ceremony to a whole other level.
She's got a point, though.
Is it possible to hire Leslie Jones as a commentator for my own wedding? Or better yet, can she full-on officiate my nuptials if/when I get married one day? I literally don't care what my future husband or in-laws have to say about it, this is now an official requirement for my future wedding.
Leslie, I love you, but there are not 17 children holding the train of Meghan Markle's wedding dress. Side note: Was anyone else terrified the page boys and bridesmaids were going to step on or rip Meghan's dress? Or am I just too invested in this whole thing for my own good?
LESLIE, I HEARD THAT YELL, TOO! I still have no idea where that was coming from, or why it was happening in the first place. But yes, I totally agree with you, girl: Meghan and Harry are going to have some pretty babies.
I think it's actually physically impossible not to laugh along when you hear Leslie Jones break out in hysterics here. Also, not only do I want her to officiate my wedding (or at least live-tweet it) someday, I kind of want a recording of her shouting "AMEN!" as my morning alarm every single day for the rest of my life. It seems like a foolproof way to never wake up grumpy again.
Truly, the only thing I love more than the diversity of cultures represented at the royal wedding, is Leslie Jones' commentary about said diversity.
OK I lied, the one detail about the royal wedding I love more than all of those things I mentioned, is Jones' not-so-subtle reference to Black Panther here. Absolutely genius.