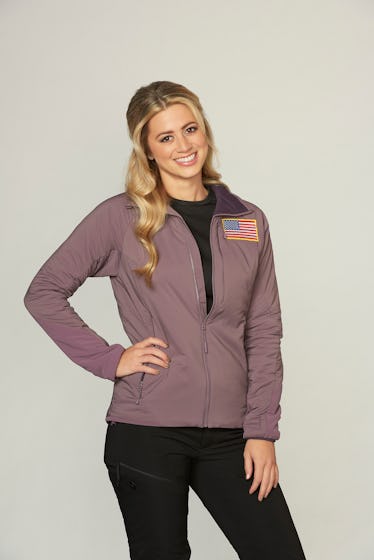 Lesley Opened Up About Her Mastectomy On 'Winter Games' & Twitter Is So Supportive
ABC
Lesley Murphy has become a total fan favorite during her time on Bachelor Winter Games. She's endeared the hearts of viewers everywhere, and not just because of her adorable romance with Dean Unglert. The sweet and charming travel blogger from Sean Lowe's season of The Bachelor has a moving story to share — Lesley underwent a preventative double mastectomy and breast reconstruction last year after discovering she carries the BRCA2 gene. And Lesley opened up about her mastectomy on the Bachelor Winter Games finale with awe-inspiring honesty prior to heading into the Fantasy Suite with Dean. Rightfully so, Twitter applauded her openness to discuss what she's been through.
"I can see myself falling in love with him," Lesley confessed, regarding her feelings for Dean at the beginning of the final episode of Winter Games. The two of them have seemed nearly inseparable since the premiere, making an emotional connection that appeared to go way beyond the surface. We all knew the Fantasy Suites were coming... This is a Bachelor spinoff, after all, even if it does take place in a climate below 50 degrees. Lesley and Dean ended up taking their date card, but not before she opened up about her hesitations.
Lesley had surgery in 2017 and she explained to Dean that she was with someone at the time, but "that relationship ended kind of before the healing process was finished." That meant she hasn't been with anyone since then, so the idea of taking things to the next level was "nerve-racking." It was a genuine moment and we have to commend her for the admirable sincerity.
"I think I just need to know that you are serious about this and about tonight and taking the next step," Lesley told Dean. Fortunately, he quelled her fears and "washed away" her insecurities by telling her just what she means to him. "I've been well aware of who you are and what you've been through," Dean assured, before calling Lesley the strongest women he's ever met in his life. And their conversation didn't conclude without one of the cutest things ever happening: they sweetly referred to one another as "girlfriend" and "boyfriend" (presumably for the first time?) through smiles.
Lesley has spoken about Dean's support over the past few weeks since their relationship made its way to the public eye. "We bonded over the fact that both of our moms had breast cancer and his mom unfortunately passed away. He knew about my surgery and my recent double mastectomy. He had the sweetest things to say about it. He was like, 'I commend you so much for doing that," she told People.
"I think we'll get really familiar with Lesley's story throughout Winter Games. I feel like she kind of talked a lot about it but ... she's a very courageous person and she's strong and I think that's first and foremost what really attracted me to her and of course she's beautiful," Dean also gushed to Entertainment Tonight. "If you want to talk about someone who's kind to everyone, it's her. It's kind of annoying when we go places... she literally makes friends with every person we meet."
"I don't think I saw what other people saw on Paradise," Lesley said of Dean on Thursday's World Tells All reunion special. It's hard not to love a couple that's so complementary and supportive of one another. Let the fawning continue.
Lesley and Dean have become quite the uplifting pair, on the ice skating rink and off. Look at that respectable height! Even Nancy Kerrigan was impressed...
Bachelor Nation is rooting for these two and it's obvious they are thankful for Lesley's willingness to share her story.